The infinite choice of slow speeds on the TV6070 Bidirectional tractor beats the competition's offering for creeper transmissions. Because you can vary the speed so easily, productivity is enhanced.
ABUNDANT HYRDRAULIC FLOW FOR INSTANT RESPONSE
When it comes to hydraulic power, the TV6070 Bidirectional™ tractor delivers more flow, more remotes and more value.


FAST, CONTINUOUS FLOW
The closed-center, load-sensing hydraulic system supplies 29.5 gallons per minute (gpm) for fast implement response. A second independent auxiliary hydraulic system with 35 gpm can be added for continuous flow applications that require a combination of high-flow and
high-pressure. Standard in-cab electronic flow control changes the speed of the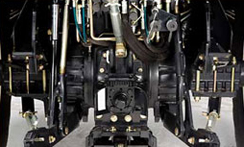 implement on the go.
FIVE FACTORY-INSTALLED REMOTES
Three closed-center, load-sensing remote valves are standard at the cab end, with two additional remotes available at the engine end.

CONVENIENT CONTROLS
In-cab flow control knobs are standard equipment for all three cab-end circuits. Green, tan and blue color coding makes it easy to distinguish couplers, flow controls and engagement levers and keep track of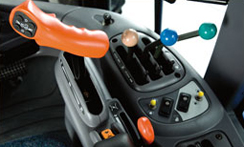 hydraulic operations. Engine-end controls are color-coded black and gray.
INDUSTRY-LEADING LIFT CAPACITY
Up to 8,700 pounds of lift easily handles more, larger implements. The standard Category II three-point hitch at the cab end has a lift capacity of 6,500 pounds. An auxiliary cylinder increases lift capacity to 8,700 pounds.


MORE FEATURES FOR HIGHER PRODUCTION
• Standard flexible link ends. Flexible link ends ensure fast implement hookup.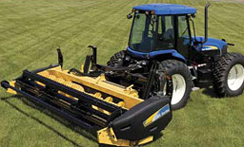 • Telescoping stabilizers. Sway of the lower links during work and transport is controlled.
• Optional hitch adds heft. An optional engine-end three-point hitch lifts up to 4,000 pounds for added flexibility and productivity.
• Convenient cab display. A position display on the cab electronic instrument cluster shows the positions of the cab-end and optional engine-end three-point hitches.


TWO PTOS DOUBLE PTO PRODUCTIVITY
• A two-speed 540- and 1,000-rpm PTO with interchangeable shaft is standard at the cab end.
• A two-speed 540- and 1,000-rpm PTO at the engine end is a factory- or dealer-installed option.


4WD
BEST-IN-CLASS TURNING, TRACTION AND MANEUVERABILITY
True four-wheel drive and articulated steering provide traction and maneuverability that allows the TV6070 Bidirectional™ tractor to work where typical tractors can't operate.
SUPERIOR TRACTION
The TV6070 Bidirectional tractor's full-time four-wheel drive with four equal-size tires provides outstanding traction in wet, icy or muddy conditions. Slippage is minimized, resulting in more effective horsepower and less tire wear.
FASTER, SHARPER, SMOOTHER TURNS
With up to 45-degree articulation, the TV6070 Bidirectional tractor lets you make faster, sharper turns with greater accuracy for reduced crop damage at row ends and better maneuverability. The TV6070 wheelbase is longer than competitive models for a smoother, more comfortable ride and best-in-class turning at all track settings.
MORE PULL WITH DIFFERENTIAL LOCKS
• Cab-end differential. A differential lock in the cab-end axle locks both wheels together to provide more pull in tough spots.
• Optional engine-end differential. Receive traction at all four wheels with an optional engine-end differential lock.
• Convenient control. Both differential locks are electrohydraulically controlled with rocker switches on the right-hand console.


TWO PTOS DOUBLE PTO PRODUCTIVITY
Seven bias and radial tire package are available to suit individual needs. Tires with special advantages include: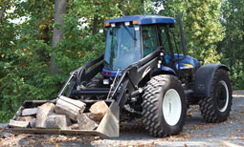 • Nondirectional tires. With lugs that are always facing forward, these tires perform equally well no matter what direction you're driving.
• Forestry tires. These special tires tackle tough ground conditions faced in highway mowing or right-of-way maintenance.



CAB
DISTINCTIVE COMFORT AND CONTROL WITH UNIQUE BIDIRECTIONAL™ CAB
The TV6070 cab, with the unique Turnabout™ console, offers an exceptional work environment for top productivity. Whether you're facing the engine end or the cab end, you'll appreciate a roomy control center that's designed for your convenience and comfort.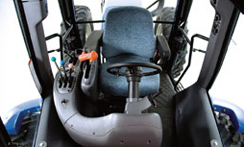 UNIQUE PIVOTING TURNABOUT CONSOLE
• Entire area pivots. The Turnabout console allows the entire operator area—the air ride seat, steering wheel, gauges and major controls—to pivot 210 degrees as a unit, so you can face the direction suited for the job.
• Offset versatility. The console also can be offset 15 degrees for added comfort when looking over your shoulder.
• Easy-reach controls. All hand controls are within easy, natural reach, and remain that way regardless of the direction you're facing. Transmission, throttle and hydraulic controls and PTO switches are in the same place at all times.

FULL-RANGE VISIBILITY
With 61 square feet of glass, visibility is excellent, no matter which direction you face. Stretching and straining to see your work is eliminated with an impressive cab-end view to loader and implement operations.



STANDARD STATE-OF-THE-ART ELECTRONIC INSTRUMENT CLUSTER
The lower-right control pad allows you to select functions to monitor on the central electronic monitor. Choices include engine rpm, ground speed, PTO speed, coolant temperature, battery voltage and service intervals. The warning light bar around the top of the dashboard assesses all critical functions. An automatic shut-down function stops the tractor if a critical malfunction occurs.


HANDY CONTROLS
Overhead heating and air conditioning controls and a standard AM/FM/weatherband radio are within easy reach.




BETTER VISION 24/7
Wipers on both windshields improve vision in all weather conditions. After sunset, four work lights on each of the cab and engine ends provide excellent visibility for all types of work. Optional HID lights add extra illumination during night operations.



MAINTENANCE
HASSLE-FREE MAINTENANCE
Routine maintenance for the TV6070 Bidirectional™ tractor is easily completed without even raising the hood and without loader interference. The hood easily flips up and out of the way for complete access to all engine and cooling-system components.
EASY FLUIDS CHECKS
Sight gauges for hydraulic oil and clear reservoirs for coolant and brake fluid make level checks especially easy. The engine oil dipstick and fill port can be reached without lifting the hood.



AMPLE, EASY-ACCESS FUEL TANKS
Two fuel tanks (55-gallon total capacity) are located in front of the cab with convenient ground-level access. Dual filler necks mean you can add fuel from either side.




CONVENIENT AIR-FILTER ACCESS
Ground-level access and easy spin-off wing nuts make cleaning or replacing engine air filters a breeze.



LOADERS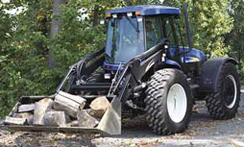 THE ULTIMATE LOADER TRACTOR
Select from two Quick-Attach loaders to turn your TV6070 Bidirectional™ tractor into the ultimate loader machine. Infinite speeds, tighter turning and easier shuttling make the TV6070 ideal for loader work. Loader choices include the 84LB or the high-performance 82LB that provides a shorter overall length with increased lift capacity.

EASY FLUIDS CHECKS
The 82LB and 84LB loaders attach quickly to the cab end of the tractor, providing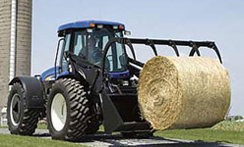 a variety of advantages compared to conventional tractor-loader combinations, including:
• Outstanding visibility to the bucket cutting edge
• A wider loader frame than typical loaders for more strength and stability
• Easier tractor servicing with no loader interference
• Shorter, neater-fitting hydraulic hoses for reduced chances of hose pinching or twisting
• Quick-Attach loader design allows you to quickly attach or remove either loader model and move to other jobs.
MORE LOADER FEATURES AND OPTIONS
Mechanical self-leveling and a bucket level indicator are standard equipment on both loader models. Multiple buckets and attachments are available for either the

82LB or 84LB loaders for greater versatility. Choose from:
• 1.5-yard general purpose bucket
• Grapple fork attachment
• Manure tines
• 2.4-yard light material bucket
82LB LOADER DELIVERS MORE LIFT CAPACITY
The TV6070 Bidirectional tractor with the 82LB loader is 2.9 feet shorter than the TV6070 tractor equipped with the 84LB loader. This shorter length places the bucket pivot point closer to the tractor, increasing lift capacity and boosting breakout force to an incredible 12,000 pounds. You also can take full advantage of the TV6070 tractor's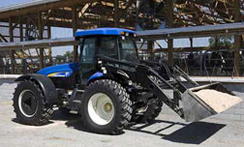 articulated steering maneuverability as a result of the shorter length.
84LB LOADER OUTPERFORMS THE COMPETITION
The 8,000-pound breakout force and 62-inch dump reach of the 84LB loader deliver far superior performance than loaders on other tractors of this size.


JUMP-START PRODUCTIVITY IN COMMERCIAL APPLICATIONS
To find out how the TV6070 Bidirectional tractor can increase performance in your commercial operation, visit New Holland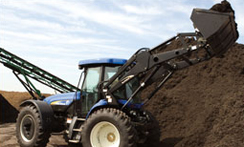 Bidirectional Tractors - a Web site for the Commercial Owner/Operator. Learn more about available attachments, read testimonials and get answers to commonly asked questions.