NOVLAN BROS - Since 1929

From Humble Beginnings to the 21st Century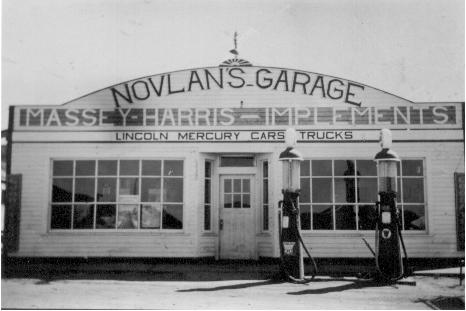 In 1929, Frank Novlan Sr. transformed a single building into a home and five businesses - a theatre, barbershop, Massey Harris Dealership, British American Oil Service Station, and Bulk Franchise. Frank Novlan Sr. was joined by his three sons, Joe, Frank Jr. and George operating the business as Frank Novlan and Sons.

The depression years were difficult for everyone and required creative ways to make equipment affordable. In 1935, Frank Novlan sold 75 binders for $200.00 each with no money down and a promise for each customer to pay for the machinery from the first grain delivery to the elevator. He did not lose one cent; every binder was paid for.

In 1937, a Chrysler dealership was added to the firm. Meanwhile George was invited to join the Massey Harris Company and left to travel the world for the next 21 years in their employ. In 1937, the thriving business needed more space so a new building was constructed next to Novlan Hall. There was further expansion in 1946 when a dealership managed by Joe Novlan was opened in St.Walburg. That year, the dealership changed from Chrysler to Ford Motor Company.

By 1949, Frank Sr. retired and his youngest sons Paul and Clem purchased his shares. Paul assisted Joe in St. Walburg and Clem managed the Paradise Hill dealership.

The current dealership name "Novlan Bros. Sales Ltd." was acquired in 1967 when Paul and Clem purchased Joe and Frank Jr's shares. Five years later Paul retired. New premises were built in St. Walburg in 1975 and in Paradise Hill in 1976. Clem's two son's Doug and Randy joined their father in 1976. That year the New Holland franchise was acquired. The Versatile line was added in 1983, Ford tractors were added in 1987, and the Sterling Heavy Trucks were added in 1991.

Once again the dealership had outgrown its facilities. In 1998, a new 30,000 square foot building was erected at the Junction of Highway 3 and 1st Avenue. This state of the art facility gives Novlan Bros the ability to properly service the Ford automotive, Sterling heavy truck, and New Holland agricultural lines (as well as the many other machinery lines they carry).

Providing good customer service has always been important to Novlan Bros Sales Ltd. and, in 2003, the dealership was presented with the President Prestige Award from New Holland, rating Novlan Bros as one of the top four dealership in North America. Also Novlan Bros has been recognized as a Blue Oval Certified dealership for outstanding customer satisfaction.

Doug and Randy Novlan and the staff at Novlan Bros are happy to have had the opportunity to serve the many customers and friends over our history, and we look forward to continue earning trust and building relationships for years to come.