4WD 350-550 HP Tractor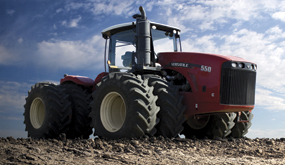 The Environmental Protection Agency (EPA) designed a framework to improve emissions standards in off-highway vehicles including farm machinery. Development of a new four-wheel drive designed to meet the strict interim Tier 4 (iT4) emissions standards began more than five years ago.

It started with the engine; Cummins, the exclusive engine supplier to Versatile, outlined the path to achieving iT4 emission standards. Work began on a new cab and operator environment, focusing on visibility and operator comfort and convenience. Caterpillar would provide a full range of powershift transmissions. New styling would improve visibility and become a design model for future Versatile tractors. And it had to maintain the reputation that Versatile four-wheel drives have carried since 1966.

The result is a new Versatile four-wheel drive designed to enhance the profitability of large scale farming operations and compete with the best in the world, while upholding the Versatile cornerstones of reliability, durability and ease of service and maintenance.

Engine
Versatile tractors have been powered by Cummins engines for more than 40 years.

The new iT4 Cummins QSX engines give the new Versatile 4WD an impressive 13% power bulge at 2100 RPM. The new engines are also capable of achieving up to a 60% torque rise, an increase of 25% over previous generations.

A Cummins QSX 11.9L engine powers the 350, 375, 400 models. The 11.9L in-line six-cylinder turbocharged engine delivers superior performance using advanced combustion technology. Single fuel technology means less maintenance yet meets stringent emissions standards.
Transmission
The mechanical 12 x 4 transmission features four synchronized sequential smooth-shifting gears in each of its three ranges. These gears have closely matched speed increments in the critical band from 3-8 mph (5-13 km/hr) to provide flexibility for every farming application.

The entire line of Versatile four-wheel drive tractors now feature 16 x 4 CAT® powershift transmissions. The 350, 375, 400, and 450 models use the TA19. The Versatile 500 and 550 feature the TA22.

The smooth shifting dependable CAT® transmissions offer 25 mph (40 km/hr) road speeds and a large selection of working range gears for every application. Both transmissions are programmable for auto-shifting and speed matching.

Hydraulics
The closed center load sensing hydraulic system provides ample capacity for implements that demand high hydraulic flow by providing pressure and flow on demand. When no hydraulic power is required, the system goes into low-pressure standby to conserve energy, providing more power at the drawbar.

Hydraulic Flow
A total hydraulic flow of 58 GPM (220 L/min) is standard, or 113 GPM (428 L/min) with the optional high flow hydraulic system. Four remote valves are standard, six optional.

Mechanical Hydraulics
Mechanical hydraulic levers, positioned for easy reach, manage a variety of applications and have the flexibility to do multiple functions simultaneously. Using lever locks, the mechanical hydraulic levers can be locked in neutral, kept out of the float position, or held at retract for hydraulic motor operation.

Electro-Hydraulics
Optional electro-hydraulics, available on all models, are ergonomically designed for both comfort and convenience. Finger-tip controls manage the hydraulic functions and hydraulic flow is increased and decreased using the EHR monitor.
Axles / Drawbar
All models feature a large, reliable heavy-duty planetary final drive to provide long service with heavily ballasted tractors and big implements. Large bearings support the planetary hubs on the axle housings. They are built with large axle tubes and planetaries capable of standing up to heavy weights and capable of handling increased bending loads associated with wide dual or triple wheel options.

Outboard Planetary Axles
In the 1970's, Versatile engineers developed the outboard single reduction planetary axle, known in the industry for its strength, simplicity, ease of service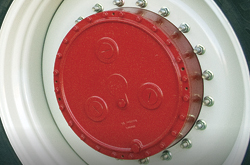 and wheel mounting. The tradition of building the most reliable planetary combination in the industry starts with placing the planetary and sun gears towards the outside of the axle. Outboard planetary axles deliver all available horsepower through a large, precision machined floating sun gear. The planetary hubs are suspended on large diameter bearings mounted directly to the axle tubes. The load is supported by the axle housing assembly and not by the drive train components. All Versatile 4WD tractors feature reliable final drives that deliver horsepower where it counts: at the drawbar.

The planetary axles remain on the tractor during routine maintenance, limiting downtime. Daily inspections are easy with a quick visual check of the axle oil level indicators. The gears can also be reversed to double the wear life.

Drawbar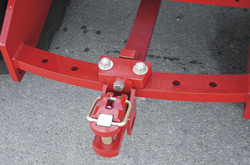 The drawbar pull point on Versatile four-wheel drives is immediately behind the articulation point, which features a large-diameter pivot pin for maximum strength and durability. The standard drawbar can move from side to side or be locked in place.

HD Drawbar Support
The fixed heavy-duty drawbar increases static load capacity for implements such as grain carts, silage trailers & manure wagons.

3-Point Hitch
A 3-point hitch is available on all Versatile 4WD tractors. Models 350, 375, 400 feature a Category III wide / IV Narrow hitch and a Category IV 3-point hitch is standard on models 450, 500, 550.

PTO
PTO output with a 1-3/4" shaft is available as an option for all Versatile 4WD tractors.

Hitch Pin
The 500 and 550 4WD tractors offer a standard Cat. V, 2-1/2" (64 mm) hitch pin with an option Cat. IV, 2" (51 mm) pin for smaller implements. The 350, 375, 400 and 450 has a standard Cat. IV, 2" (51 mm) pin with an optional Cat. III, 1-1/2" (38 mm) pin available.

Pivot Pin
Models 350, 375 and 400 feature a 2.36" (60 mm) pivot pin while models 450, 500 and 550 have a 3.15" (80 mm) pivot pin.
Cab
The Versatile four-wheel drives offer the largest cab in the industry. The cab interior is 20% larger than previous models and offers 85.9 sq. ft. (7.98 sq. m) of window glass an increase of 14% from previous models. The new cab and hood design also increase forward visibility by 35% over the last generation. Additional standard cab features include; a front and rear intermittent wiper/washer system, front and rear sun visors, four 12-volt outlets, four cup holders, and multi-directional vents.

Deluxe Cab
The Deluxe Cab is a high-end full-featured cab that provides the operator with every imaginable comfort for long working days. A semi-active air-ride suspension seat and the training seat are both standard in this configuration. In addition to the connectivity options available in the standard cab, the Deluxe Cab has an 110v AC power outlet and a 5-volt integrated USB port. A subwoofer is also standard to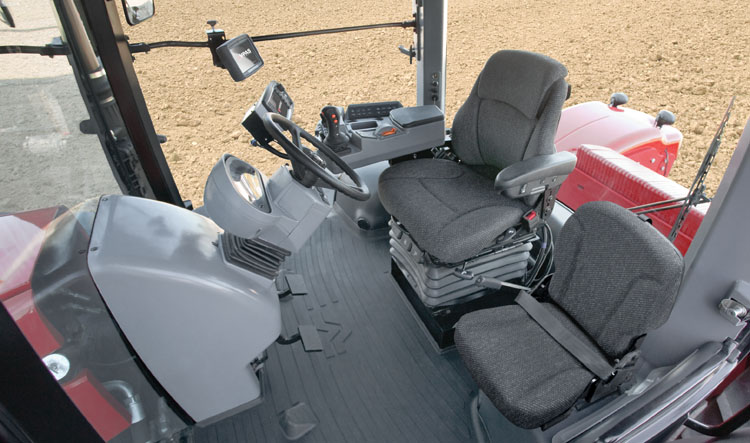 improve sound quality in the cab.

Dash Console
The redesigned dash console is narrower than previous versions to increase forward visibility. The steering console has standard tilt and telescopic operation to provide additional operator comfort. A newly designed dash display simplifies information for improved readability.

Operator Seat
The operator seat has a 104° swivel range to maximize visibility when towing implements. Air ride suspension and a heated seat are standard in the Deluxe Cab.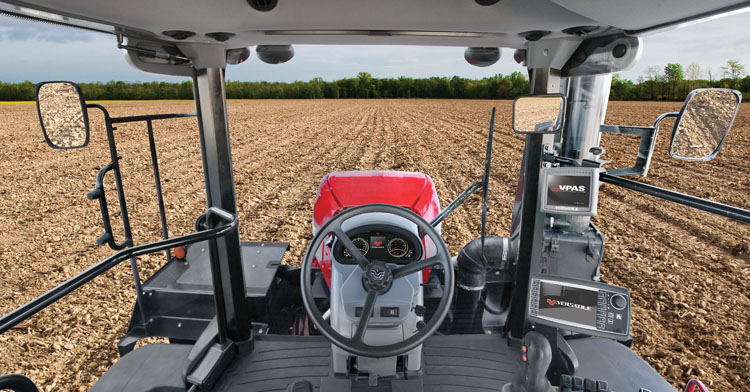 Training Seat
A comfortable training seat is available as an option and is standard in the Deluxe Cab. The seat has storage underneath and folds down to hold a laptop.

Vents
Large multi-directional vents optimize comfort and help create an ideal cab environment.

Radio
A conveniently located stereo and high quality sound system help make long days in the cab more enjoyable.

Convenience
Four cup holders are standard. The cab also has coat hooks to keep the cab clean and organized.
Options
Versatile tractors are well-equipped with the standard features most-requested by farmers. Additional options are available to customize the tractor for the requirements of your farm.

V-PAS
A Versatile Precision Ag System increases the flexibility of your equipment and helps to improve the overall productivity of your operation.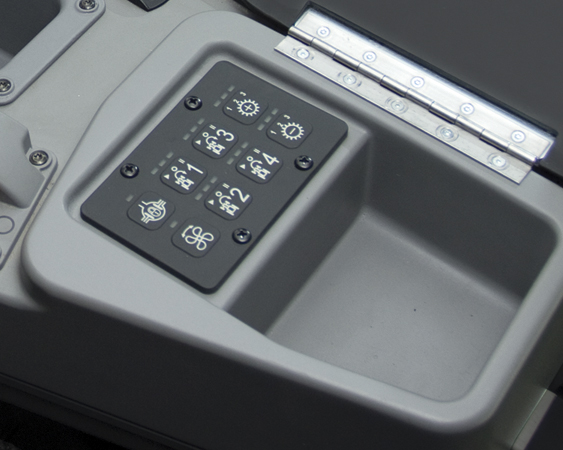 » Learn more about V-PAS.

Auto-Steer Ready
GPS technology saves time, fuel, and money when mated with an auto-steer system that prevents overlap and maintains the field heading. Versatile is pleased to offer an optional factory-installed auto-steer-ready kit that is compatible with most auto-steer packages on the market. You can incorporate the auto-steer kit that is best suited to your agriculture operation.

High-intensity discharge (HID) lighting
HID lights have proven themselves to be very useful in agriculture operations. There's never enough hours of daylight and HID lighting provides up to ten times more light than conventional headlights. Known for casting a blue hue, an HID light kit is available as a front and rear package.

Hydraulic Remotes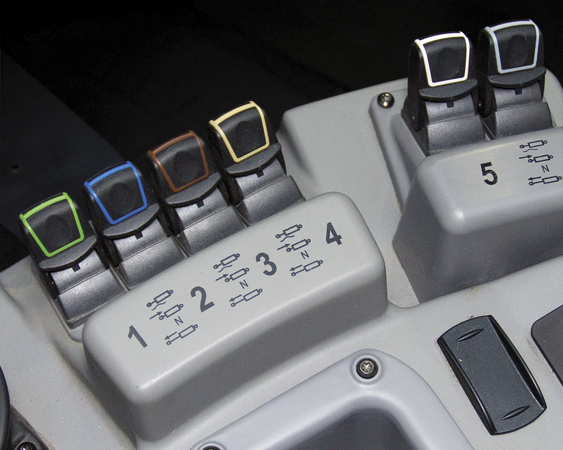 Available with six or eight hydraulic remotes, 435, 485 and 535 are available with high-flow hydraulics for increased flow to meet the demands of modern implements.

Optional Equipment
» Front / rear differential lock
» Electro-hydraulics
» HID light package
» Deluxe Cab
» Heavy-duty axles
» Heavy-duty drawbar support kit
» 1 1/2" drop pin and bushing kit
» Tow cable
» Weight packages
» Performance monitor with radar
» Canbus engine monitor
» Auto-steer-ready kit

Visit your dealer for the full list of optional equipment.
Service
There are never enough hours in the day and every minute counts. That's why all Versatile tractors are designed with easy serviceability in mind. Routine service can extend the life of your tractor, minimize downtime and lower your operating costs.

Daily Maintenance
Daily maintenance is made easy with improved access to all fill and grease points. The hydraulic and fuel sight gauges are visible from the ground without opening side panels or removing any shields. The gullwing-style side panels open wide to provide excellent service access to all under-hood components..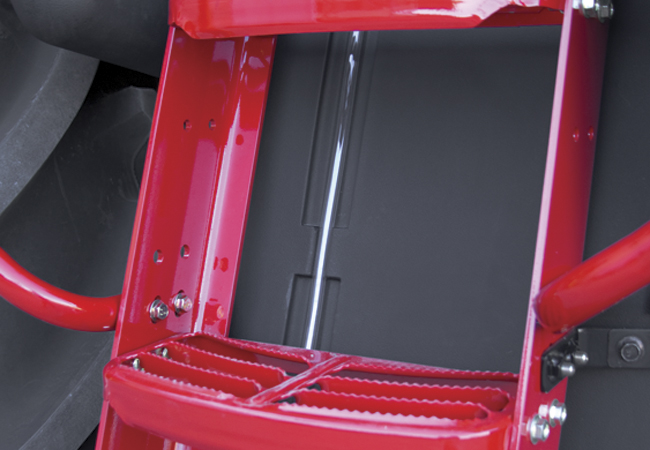 Axle Servicing
The Versatile outboard planetary axle system is known for its ease of service. Planetary axle covers can be removed from the tractor without removing the axles and tires, limiting the amount of time needed for routine maintenance. Daily inspections are easy with a quick visual check of the axle oil level sight gauges.

Grille Access
The front grille swings open to provide ground level service access to the condenser/cooler package. The cooler and condenser package swings open for service access.

The batteries are also located behind the grille at ground level and a shut off switch is standard for safety, winter storage and to prevent against theft.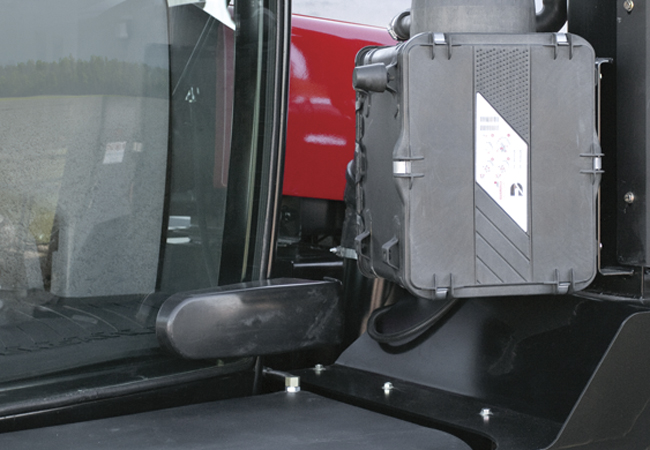 Steel ballast is mounted under the front of the tractor improving service access, visibility and reducing storage size.

Fuel Sight Gauge
Protected underneath the entrance ladder a full-length fuel sight gauge gives operators a quick view of the fuel level before entering the tractor.

Air Cleaner Assembly
A dry element air filter is easily accessed and removed when it needs to be replaced.

Fueling
Refueling can easily be accomplished from either side of the tractor. A crossover tube allows both tanks to be filled quickly and with capacities of 300 and 400 U.S. gallons (1335 and 1514 L) you'll have many hours in the field before stopping for fuel.

Access
A right hand ladder gives you access to the engine air cleaner for quick servicing. The ladder also helps with right side fueling and provides access to the egress door.