You can handle heavy bales and implements with ease thanks to a single auxiliary lift ram that can lift an impressive 5,620 lbs. (2,549 kg) at 24". Need more lift capacity? No worries. An optional single 50mm lift ram can boost your capacity up to 7,351 lbs. (3,334 kg) at 24". You can conveniently control your three-point hitch with two levers located on the right hand side of the seat.
THE VISIONVIEW CAB: LOOK UP AS YOU LIFT UP
You'll be impressed when you look up and have a perfect view of your loader thanks to the optional high visibility panel. This panel can be opened up in the summertime to allow fresh air in the cab. When the sun gets too hot, the integrated sunshade can easily provide you with shade.
PERFECTLY PLACED CONTROLS
The most frequently used controls are all conveniently located on the CommandArc™ to your right. This ergonomic cluster places your PTO knob, hydraulic levers, throttle lever, three-point hitch controls, and even your loader joystick all in one convenient location.



COOL CLIMATE CONTROL
The new high-performance air conditioning system features dual zone technology to guarantee high performance during the hottest summers and the coldest winters. Control your air flow coming out of the ten repositionable vents with the B-pillar mounted controls. These vents provide air flow to both the upper and lower portion of the cab while also warming and cooling your feet.


SELECT YOUR SEAT
Three seats are available for all cab models. You can choose between a fabric, mechanical suspension seat without armrests, a fabric seat with air suspension and armrests, which is standard, or the fabric seat with air suspension, armrests, and 15° swivel.



INSTRUCTOR SEAT
T4 tractors equipped with a cab can be equipped with an optional full-size buddy seat that enables you to show someone exactly how you want a task done.



PERFORMANCE AT A GLANCE
The unobstructed instrument cluster moves in conjunction with the tilting steering column for a clear view of key operating information. Consult the easy to read performance monitor for information on your acres worked, direction, and service information in the convenient three-section display.


RUGGED ROPS PLATFORM
ROPS FOR AN OPEN AIR EXPERIENCE
All T4 tractors are available in an ergonomic, flat deck, ROPS configuration. For applications where low-clearance is crucial, the ROPS can easily be folded down. The CommandArc™ console is still part of this configuration, providing you with unmatched ergonomic comfort.

FOPS FOR SHADE AND PROTECTION
For added shade and protection from the elements and debris, a stylish FOPS canopy is available. In addition, the FOPS canopy also comes with a noise reduction kit, which includes grab rail glass and a rubber floor mat to reduce noise and vibration.

SMART STORAGE
ROPS models have additional storage compartments on both fenders since no cab air filters are needed. These storage spaces are easily accessible from both the platform as well as the ground.



MAINTENANCE
NEW BLUE DESIGNED TO HELP YOU
As a farmer, you want to spend more time working and less time maintaining your tractor, so T4 series tractors have been designed to be ready whenever you are. The long, 500-hour service intervals, impressive fuel economy, and simple daily checks thanks to the one-piece flip-up hood make maintaining your T4 simple.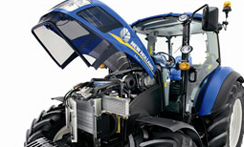 EXCEPTIONAL FUEL ECONOMY
The existing Tier 3 NEF engine series established itself as the benchmark for fuel economy. The new Tier 4A F5C engines found in T5 series tractors benefit from common rail technology to optimize fuel savings even further.
| | | | |
| --- | --- | --- | --- |
| T4.95 | T4.105 | T4.115 | T4.85 |
T4 Series Tractors - PowerStar
75 HP