All T7 Tractors, including 100 to 140 PTO hp, standard wheelbase models, are available with a choice of transmissions to match your
operating needs and preferences, including full powershift and Continuous Variable Transmissions (CVTs). Your transmission choices include:
THE HORIZON™ CAB: THE HEART OF THE T7 PERFORMANCE
Every aspect of the superior T7 Series tractor performance converges in the ultra-quiet, high-visibility Horizon™ cab, featuring unrivaled comfort and precision. From here, you control the groundbreaking engine power and the best-in-class dedicated hydraulic flow. This is the level of productivity and performance you've been waiting for.
COMFORTABLE COMMAND CENTER
Enjoy ultra-quiet comfort in the Horizon cab. Interior sound
level is a hushed 70 dba. Sixty-three square feet of glass enclose the Horizon™ cab, providing an unobstructed view in every direction. There's even a high-visibility roof panel to provide an upward view for loader work. A retractable sunshade blocks glare and the panel opens for fresh air, too. Learn more about the high-visibility roof panel.

SUPERIOR LIGHTING PACKAGE
A best-in-class lighting package with 12 halogen work lights keep you working in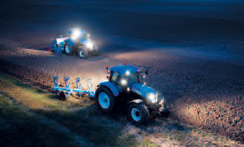 any type of lighting. Lighting includes eight forward-facing lights and four to the rear, with optional High Intensity Discharge (HID) Xenon lights.

UNMATCHED COMFORT
The deluxe air-ride seat (standard cab package) swivels, supports, and adjusts in a multitude of ways to assure absolute comfort. Every detail adds to your comfort and productivity—from the tilt/telescoping steering wheel to the generous storage space and optional full-size instructor seat.
DELUXE CAB OPTION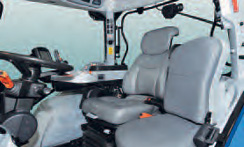 Step up to higher-level comfort with AutoComfort™ low-frequency air suspension seating with heated cushions and active suspension dampening. For added luxury, request the leather AutoComfort seat as well as a leather instructional seat.

SMOOTH RIDING
Comfort Ride™ cab suspension (standard on T7.235 thru T7.270 with electronic remotes and standard on all other models) provides the smoothest ride over bumpy ground. This simple mechanical system uses two isolation "donuts" at the front corners of the cab and a swaybar and two adjustable shock absorbers at the rear to isolate you from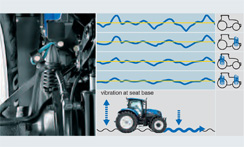 both up and down motions and side-to-side swaying. Learn more about Comfort Ride™ cab suspension.

THE ULTIMATE IN CONVENIENT CONTROLS
The Sidewinder™ II armrest electronically slides forward or back to suit each operator. Since it moves on an inclined plane, it rises higher as it glides forward, moving controls closer to the operator. Incorporated into the adjustable Sidewinder II armrest is the new Intuitive Command Console, providing easy, logical touch controls for less frequently used functions.

COMMANDGRIP™ MULTIFUNCTION CONTROLLER
Located on tractors with electronic remotes, CommandGrip controls up to eight frequently used tractor functions on AutoCommand™ units; it also controls speed and direction by pushing forward or pulling back.
THE PERFECT DISPLAY
The IntelliView™ III or large IntelliView™ IV color touch screen display is integrated into the Sidewinder™ II armrest, offering a single screen solution for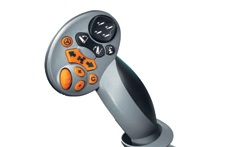 running key equipment functions and precision applications such PLM™ IntelliSteer™ auto guidance and implement control.

PERFECT ROWS EVERY TIME
Order your T7 Series tractor from the factory as "auto-guidance ready" to take advantage of the optional IntelliSteer™ auto steering system. It uses GPS to return you to the same row position throughout the season, and once in the row, steering is automatic. Since the IntelliView™ III touchscreen display is standard on T7 Series tractors with electronic remotes, there's no need for a special auto-guidance monitor.

INNOVATIVE STANDARD AND DELUXE CAB FEATURES
Enhanced keypad for tracking engine hours, distance and other functions is standard equipment on all models with electronic remotes.

ADDITIONAL DELUXE CAB FEATURES
Increase your comfort and productivity with automatic temperature control that maintains the temperature setting; standard electronically adjusted, telescoping, heated mirrors; and standard electrohydraulic remotes.
SEEMLESS AUTO COMMAND™ CVT
The Auto Command™ Continuously Variable Transmission (CVT) makes it easy to find the perfect speed for each job because your choice of speeds is infinite. You accelerate from zero to maximum speed smoothly, without multiple steps. And, with no clutching, the shuttle shifting is the smoothest you'll find, making the Auto Command transmission ideal for loader work.
PRECISE SPEED CONTROL
With the Auto Command™ CVT, your T7 Series tractor responds to lever movements. This force-based system is superior to other transmissions on the market since it allows you to speed up or slow down at the precise rate you want with just the press of the lever. Speed may be changed in increments as small as 0.1 mph.
A SUPERIOR MULTI-CONTROLLER
The CommandGrip™ multifunction lever provides fingertip control. Unlike speed levers on other tractors that move further from your body as you increase speed, the CommandGrip lever simply tilts forward and back, pivoting in place and staying within easy reach. When the desired speed is reached, allow the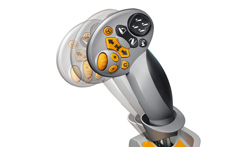 controller to return to its central position, and that speed is maintained.

DEFINE YOUR TARGET SPEEDS
The Auto Command™ transmission allows you to easily define and change target speed segments that can be recalled as needed.
Different forward and reverse target speeds. Three forward and three reverse target speeds can be set at completely different settings to match the job being performed.
Easy target speed changes. The CommandGrip™ controller makes it easy to set or change between target speed segments with the +/– buttons. The speed wheel on the left allows you to adjust the speed with only your thumb.
Three sensitivity settings. The Intuitive Command Console easily allows you to select from three acceleration sensitivity settings, giving you control over how quickly the tractor shuttles and how quickly speed changes are made.

SIMPLE-TO-USE CRUISE CONTROL
Just press the "C" button on the Command Grip™ multi-controller for two seconds while you're traveling and the transmission maintains that speed. Or, press the "C" button while traveling in selected target speed segments and the transmission will automatically accelerate and maintain that segment's top speed.

TWO AUTO COMMAND™ CVT CHOICES
Match the speed to your operation:
• Economy − 25 mph top road speed at reduced engine speed
• Fast Mover − 31 mph top road speed.*

*Includes TerraGlide™ suspended front axle with brakes and hydraulic trailer brakes.

SMART, FULL POWERSHIFT POWER COMMAND™ TRANSMISSION
The New Holland Power Command™ transmission puts more working speeds at your disposal, provides programming options that simplify your work. And its automatic shifting rivals the smoothness found on premium automobiles.

FIELD AND ROAD AUTOMATIC SHIFTING
The Power Command™ transmission shifts for you using a patented torque sensing system. The system monitors engine speed and torque load at the engine flywheel and automatically shifts up or down within a span of gears as needed.

FULL POWERSHIFT TRANSMISSION ADVANTAGES
With the Power Command™ full powershift transmission, you move automatically through all the gears without mechanical shifting. In contrast, competitive-brand tractors with semi-powershift transmissions must be shifted mechanically to access the next range of gears. When in auto mode with the T7 Series, you can match the automatic shift point to your applications by programming the transmission to shift when engine speed reduces by 5, 10, 15, 20, 25 or 30 percent.

GEARS 1 TO 11 FOR AUTOMATIC FIELD SHIFTING
Simply select the engine speed and gear needed, then press the auto button for automatic field shifting. The system works to maintain that throttle setting and automatically shifts up or down based on the selected programmable shift point.

GEARS 7 AND UP FOR AUTOMATIC TRANSPORT MODE
Simply select the engine speed and gear needed, then press the auto button for automatic field shifting. The system works to maintain that throttle setting and automatically shifts up or down based on the selected programmable shift point.

ADDITIONAL TIME-SAVING FEATURES
Save even more time with the following features:
• Go-To Mode. Automatically downshift to a preselected gear when you use the three-point hitch quick raise button or upshift when you lower the three-point hitch.
• Auto "No-Clutch" Take Off
• Gear Preselect
• Speed Matching in Transport Range

CONVENIENT PROGRAMMABLE POWER SHUTTLE
Shuttle between forward and reverse without clutching, stopping or removing your hands from the steering wheel. Customize the shuttling action by programming the best reverse and forward gears for each job. For loader work, you can power into the pile and back out quickly or program slower speeds for more precise movement.

MORE WORKING-RANGE SPEEDS
Nine of Power Command™ transmission's forward speeds are in the 2- to 8-mph working range, allowing you to easily match the best ground speed to your implement's capabilities.

FAST TRANSPORT SPEED
A top transport speed of 25 mph gets you from one place to another in a hurry. Engine Power Management is available when transporting in gears 16 and up, as well as non-static PTO and hydraulic applications. Choose the Economy, PowerCommand™ transmission to achieve the maximum 25 mph transport speed at a lower engine speed for improved fuel efficiency. The Faster Mover transport option provides an additional forward speed to achieve a higher 31-mph transport speed (tire restrictions apply).

CREEPER OPTION
The 28Fx12R creeper transmission is available for specialty applications requiring extra slow ground speeds, with a minimum speed of 12.3 feet per minute. The creeper option can be combined with any of the three Power Command™ transmission choices.
POWER TO SPARE
Turbocharged T7000 six-cylinder engines feature four valves per cylinder and respond with up to 45% torque rise when the going gets tough. These engines meet all Tier III emission requirements to go easy on the environment and feature a common rail fuel injection system for fuel efficiency.

POWER BOOST ON DEMAND
The electronic fuel management system features Power Boost, which delivers up to 35 additional horsepower during PTO and transport applications to compensate for tough conditions or steep inclines. Models with the Power Command transmission also have the boost available for hydraulic applications.

CRUISING PRECISION
When precise engine speed is essential to optimum performance, the constant RPM system lets you program two engine RPM settings and toggle between them as needed to streamline fieldwork such as baling.

LONG-LIFE DESIGN
These time-proven engines feature a durable parent-bore design for extended life. The contoured block design features stiffening gussets for increased structural strength. The use of B100 biodiesel blends (meeting ASTM 6751 standards) is approved for T7000 tractors to reduce emissions and foreign oil imports.
MORE FLOW, MORE CHOICES
Quick response and ample oil flow are part of the design of the T7 Series hydraulic system. You have the capacity, control and flexibility to perform multiple hydraulic functions simultaneously—without sacrificing performance.

TWO-PUMP CCLS SYSTEM
T7 Series hydraulic performance starts with the closed-center load-sensing (CCLS) system powered by a variable displacement piston pump, delivering 33 gallons per minute for the rear remotes, three-point hitch and loader on all models. An optional high-flow pump provides 39 GPM on models T7.235 - T7.270 and 37 GPM on models T7.100 - T7.210. All models include a separate pump for operating circuits.
UP TO FIVE ELECTROHYDRAULIC REMOTES
Electrohydraulic remote valves, which allow you to control flow rate and timing electronically from the cab, are standard equipment on all models with the Auto Command™ CVT transmission or the deluxe cab, and optional on models with the Power Command™ transmission. Three electrohydraulic remotes are standard with two more available. Switches on both fenders are included for external control of the third rear remote.

MECHANICAL REAR REMOTE VALVES
These valves feature configurable detents and mechanical flow adjustment. Three mechanical remotes are standard with a fourth that can be requested from the factory or installed by your dealer.

REMARKABLE LIFT CAPACITY
Three-point hitch capacity for T7 Series tractors is an outstanding 15,873 lbs for T7.250, T7.260 and T7.270, and 12,787 lbs for the T7.235 model (all measurements are ASAE @ 24 inches). That means you can save time with larger, wider three-point-mounted implements that cover more acres with every pass.

EASY HOOKUP
Flex link ends and a turnbuckle height adjustment make hookup a breeze. And, a fast raise/ lower switch is provided in the cab and on both rear fenders. Standard Dynamic Ride Control™ helps prevent three-point-mounted implements from "bouncing" on the rear hitch during transport. You enjoy greater steering control, added safety and a smooth, comfortable ride.

PRECISE DRAFT CONTROL
Electronic draft control allows for precise, automatic control of three-point-mounted implements, using lower link draft sensing to maintain a constant load on the hitch through changing soil conditions.

SOFT START PTO
The T7 Series PTO is electrohydraulically engaged for smooth starts, and the standard Soft Start feature provides added implement protection. A PTO 'coast down' switch allows you to manually override the PTO brake to control high-inertia loads. An exterior PTO switch on each of the rear fenders makes the PTO shaft easier to hook up.

NEW PTO OPTIONS
A 540/1000 rpm PTO shaft is standard equipment on all T7 Series tractors; on T7.235 thru T7.270 models economy PTO options are available. The 1000/1000E rpm PTO controls speed selection electronically. In the 1000E mode, the 1000-rpm PTO speed is achieved at a low 1700-rpm engine speed for improved fuel efficiency.

TIME-SAVING AUTO PTO
Another bonus on T7 Series tractors with electrohydraulic rear remotes is automatic PTO engagement and disengagement when you use the quick raise/lower switch.
GET ADDED CONTROL WITH SUPERSTEER™ OR TERRAGLIDE™ AXLES
Two innovative New Holland FWD axle options provide advantages in the field and on the road.

FASTER, SHARPER TURNS WITH SUPERSTEER™
The optional SuperSteer™ FWD axle pivots as the tractor turns, adding 19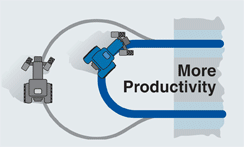 degrees of articulation to 46 degrees of turn angle for an unmatched 65-degree turn angle. You turn sharper and faster, achieving an amazing 35% reduction in headland turn time. You'll also get in and out of tight spaces easily and work more productively in small fields. You also can equip your T7 Series tractor with the SuperSteer and FastSteer™ options for an exclusive combination that redefines turning ease.

SIMPLE, INGENIOUS DESIGN
The SuperSteer™ axle is attached to the tractor with a simple, heavy-duty ball-and-socket joint. As the tractor turns, the whole axle pivots and the inside tire moves away from the tractor. At the same time, the outside wheel moves forward, in front of the tractor's nose, providing more tire clearance, a greater turning angle and reduced turnaround diameter.

SMOOTH-RIDING TERRAGLIDE™ FWD AXLE
The TerraGlide™ axle provides up to 4.13 inches of travel to keep the front tires in contact with the ground, letting you ease through rough spots. The result is an ultra-smooth ride plus maximum traction, stability and steering control.

A SIMPLER, MORE AFFORDABLE DESIGN
The TerraGlide™ FWD axle design is less complicated than competitive systems. The system self-levels, regardless of the front axle load to maintain full suspension travel at all times. A convenient override switch on the armrest console allows you to lock out the front suspension between speeds of 0.9 and 7.4 mph—another feature not found on other systems. Learn more about SuperSteer™ and TerraGlide™.

MAXIMUM POWER TERRALOCK™ TRACTION SYSTEM
Fully automatic FWD and front and rear differential lock engagement are included in the TerraLock™ traction system, which is standard equipment on all T7 Series tractors. The result is full-drive capability through all four wheels for more positive traction.

THREE TERRALOCK™ MODES
The TerraLock switch has three positions—off, full-time and automatic. In automatic mode, the TerraLock system engages and disengages front-wheel drive and four-wheel differential lock depending on steering angle, forward ground speed, threee-point hitch quick raise use and brake application.

CHOOSE YOUR TERRALOCK™ MODE
Automatic mode delivers optimum traction when traveling straight, then disengaging FWD and diff lock when the steering wheel is turned to improve maneuverability. If forward speed exceeds 9 mph, both FWD and differential locks will temporarily disengage. When TerraLock&trade is engaged fulltime, both FWD and differential lock remain engaged until you activate the brakes. You also may turn TerraLock off to completely disengage FWD and the front and rear differential lock.

FOUR-WHEEL ASSISTED BRAKING
Self-adjusting, self-equalizing hydraulic wet disc brakes deliver the stopping power you need. When both brake pedals are applied simultaneously, FWD engages automatically to aid in braking action for added control.
TAKE ADVANTAGE OF FAST, FLEXIBLE STEERING
Whether you use your T7 Series tractor for loader work or in row-crop applications, the optional FastSteer™ turning system simplifies and speeds turns for greater efficiency, control and operator ease.

LESS TURNING EFFORT
FastSteer™ allows you to execute a right or left turn by moving the steering wheel a mere 10 degrees. Instead of the multiple steering wheel revolutions required for a "lock-to-lock" turn, only a nudge is needed with FastSteer for less effort and time on the job.

EASY-TO-USE FASTSTEER™
To use the FastSteer system, press the rocker switch on the right-hand armrest control panel to activate the system. When you're ready to turn, press the inner ring of the steering wheel to engage FastSteer. A light on the instrument panel indicates the system is engaged. FastSteer automatically disengages when travel speed exceeds 6.2 mph. Normal steering returns instantly when you release the inner ring of the steering wheel.

FULLY INTEGRATED INTELLISTEER AUTO-GUIDANCE
You can order your T7 Series tractor from the factory as "auto-guidance ready" to take advantage of the fully integrated IntelliSteer™ automatic steering system. It uses GPS technology for near-perfect row spacing and row position repeatability throughout the season. Choose from four levels of accuracy to match your needs and your budget.
CUSTOM HEADLAND MANAGEMENT EASIER, PRECISE TURNS
The New Holland Custom Headland Management System lets you manage headland-turning routines with the press of a button for greater operator comfort, precision and productivity.

MEMORIZES UP TO 28 TASKS
The Custom Headland Management System memorizes and replays a series of up to 28 tasks, including changes to:
• Transmission gears
• Engine speed
• Engage/disengage constant engine speed
• Three-point hitch position
• Electrohydraulic valve operation (if so equipped)

Note: The TerraLock™ system automatically disengages FWD and diff lock as you turn, and re-engages them when the turn is complete.

TWO SEQUENCES RECORDED
Record and play back two separate sequences with the Custom Headland Management System—one for exiting the row and another for entering the next row. After you've recorded the series of adjustments, simply push the step button on the multi-controller to play those adjustments back. Symbols on the transmission display allow you to confirm the actions that are being recorded or replayed so you can easily keep track of operations. Sequences prerecorded by seasoned drivers allow inexperienced drivers to achieve impressive in-field productivity.

SIMPLE HEADLAND TURNS
Combine the turning ease of FastSteer™ with the standard T7 Custom Headland Management System for the simplest headland turns. At the end of the row, push the headland button, press the inner ring of the steering wheel and only a slight turn of the steering wheel is needed.
FAST SERVICE ACCESS
New Holland equipment is designed for easy maintenance, and T7 Series tractors lead the way with easy-to-reach, ground-level routine service checks.

SIMPLE OIL CHECKS
Check and top off engine oil at one convenient location without raising the hood. The hydraulic oil level is easy to monitor from the rear of the tractor, with a sight glass allowing quick visual checks.

CONVENIENT FLIP-UP HOOD WITH GAS STRUT
The entire hood glides open to provide unobstructed access to everything, including the engine air filter, AC and radiator. The condenser and hydraulic oil cooler pull out easily for cleaning when needed. A 600-hour oil change interval means less servicing downtime for you.

LARGE, SIDE-MOUNTED FUEL TANK
A 104-gallon tank provides enough fuel for a full day's work without hindering visibility to the front or back. The fuel fill tube can easily be reached from the ground for fast, convenient refueling.

HIGH CAPACITY, CONVENIENT ADBLUE / DEF TANK
A 13-gallon diesel exhaust fluid (DEF) tank provides fluid for a minimum of two fuel fill-ups. The fill can easily be reached from the ground for fast, convenient refilling.
T7.170

T7.185

T7.200

T7.210

T7.235

PTO hp: 150
Rated Engine hp: 185
Maximum power with EPM: 234 hp
Hydraulic flow – std/opt: 39/45 gpm

T7.260
TAKE CONTROL OF MORE THAN JUST YOUR TRACTOR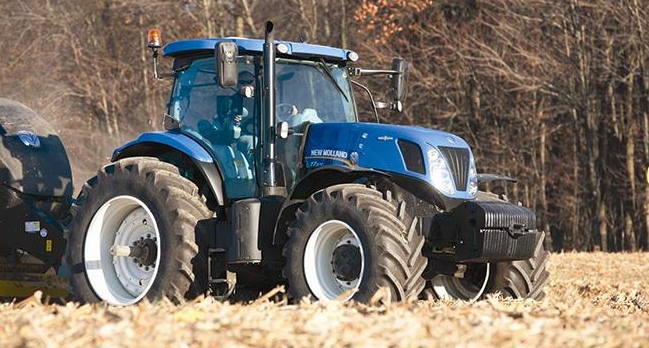 T7 Series tractors offer unrivaled comfort, power, efficiency and precision. They let you take control of your operating costs by improving the efficiency of your operators, your field performance and your business. That's New Holland SMART. New Holland T7 tractors deliver big productivity and top-of-the-line comfort.
7 MODELS, 3 TRANSMISSIONS, COUNTLESS AWARDS
You can specify your New Holland T7 tractor to match your specific business needs. With rated engine power ranging from 140 to 240 horsepower, and PTO horsepower ranging from 110 to 210 PTO horsepower, the seven-model T7 Series line-up offers a choice of semi-powershift, full-powershift or continuously variable transmissions (CVT), with the T7.270 available only with the Auto Command™ CVT. You can add a New Holland loader to any T7 model, and also choose the optional fully integrated front three-point hitch and PTO.

FULLY INTEGRATED INTELLISTEER™ AUTO GUIDANCE
T7 Series tractors are designed to make full use of New Holland Precision Land Management technology, allowing you to dramatically improve operator performance and comfort—all at the touch of a button. You can specify your T7 Series tractor with a fully integrated New Holland- IntelliSteer™ auto guidance system. The system uses DGPS or RTK technology to help ensure parallel pass-to-pass accuracy as precise as sub inch.
Go to PLM Guidance web page