STATE-OF-THE-ART CAB
The Harvest Suite™ Ultra features a larger cab with 6.3m² (68ft²) of glass, almost 7% more than previous models. More space and more glass mean more comfortable and precise harvesting. How was this achieved? The interior components have been completely redesigned. But it's the details which really make a difference. The floor slopes down into the front windscreen so that operators will have an even clearer view of the header.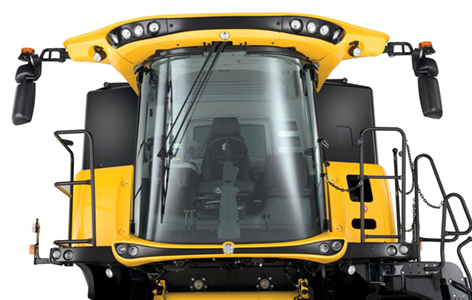 THE BEST SEAT IN THE FIELD
No less than three types of seat are on offer:
1. The standard wide cloth trimmed seat provides exceptional features and ensures all operators will stay comfortable throughout the longest harvesting day.
2. The optional deluxe cloth trimmed seat with heating and active ventilation is perfect for the hottest days and the coldest nights, and features fore/aft movement for even more comfort.
3. The top of the range leather trimmed seat with extended vertical travel and automatic weight adjustment absorbs even the most severe bumps to offer the ultimate in operator comfort and style.
YOUR HARVESTING CONSOLE
The new harvesting console offers ergonomic control of all key harvesting parameters, and it has been designed to become an extension of you. The force based CommandGrip™ multifunction handle, as found on high horsepower tractors and the FR range of forage harvesters, delivers intuitive control and enables you to fine tune harvesting speed for ultimate performance.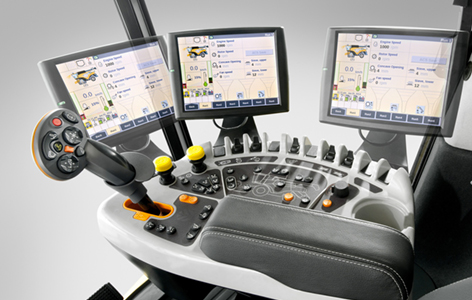 TOUCHSCREEN SIMPLICITY
The ultra-wide 26.4cm (10.4inch) IntelliView™ IV colour touchscreen monitor is fixed on rollers which can move along an ideal viewing arc so you can position it just where you want. Up to three cameras can be fitted and one has been pre-wired to assist with reversing. A second screen can be installed on request and is perfect for IntelliSteer™ auto guidance tasks.
A PLACE FOR EVERYTHING
You now have space to store everything you need. A large compartment behind the operator is perfect for stowing away essential documentation. The integrated fridge under the instructor seat will keep your drinks cool but can also be removed for easy replenishment.
CR10.90: FIRMLY DOMINATING THE NEW CLASS 10 SEGMENT
The quest for epic performance is at an end: 653hp(CV) from the Diesel Engine of the Year 2014, 14,500 litre grain tank, 143 litre per minute unloading speed. Welcome to the range topping CR10.90: opening a new era in harvesting and already ruling it all. SmartTrax™ rubber tracks with Terraglide™ suspension. Check. Dynamic Feed Roll™ technology, the on-the-go stone trap which accelerates crop to enhance capacity and maintain best in class grain and straw quality. Check. An extra-long folding 10m unloading auger to match the largest headers and tallest trailers. Check. Day long autonomy with a 1300 litre fuel tank. Check. The CR10.90: class 10 combine harvesting excellence. Check!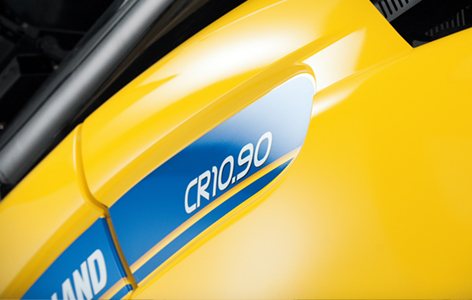 POWERFUL EFFICIENT PRODUCTIVE
The CR range is equipped with Tier 4A compliant ECOBlue™ SCR engines which deliver 10% fuel savings when compared to their Tier 3 counterparts. Outstanding transient response ensures constant productivity no matter what the field conditions. The flagship CR10.90 is equipped with the Diesel Engine of the Year 2014 which benefits from ECOBlue™ HI-eSCR technology, which is compliant with the even more stringent Tier 4B regulations. Developed in partnership with New Holland's sister brand FPT Industrial, it also features Common Rail technology for precision fuelling and outstandingly responsive performance.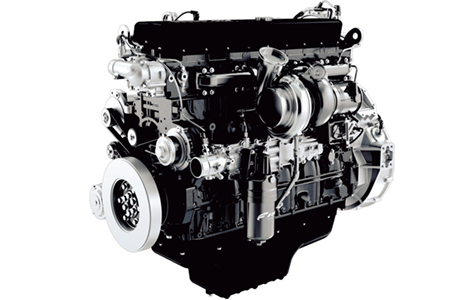 DOUBLE UP FOR EFFICIENCY
The CR10.90 features a Dual Rotary Dust Screen which delivers better cooling performance for more efficient operation.
A NEW HARVESTING DIMENSION
The all-new CR series is taking combining to the next level. The culmination of over 40 years of rotary harvesting excellence, the six model range spans Class 7 to Class 10 machines, all of which will boost your productivity. Industry leading Twin Rotor™ technology. Twin Pitch Rotors. ECOBlue™ HI-eSCR Tier 4B compliant engines on CR10.90. Quite simply a roll call of combining excellence. But there's more. The brand new Harvest Suite™ Ultra cab is more spacious, has more glass and is even more ergonomically designed. The most powerful CR ever has just upped the harvesting stakes.
SHINING A LIGHT ON HARVESTING EXCELLENCE
The CR's lighting package has raised the lighting bar. The spread of light has been precision engineered for maximum visibility of the entire header and the field ahead and behind. Precision unloading in the dead of night. You'll never lose a single grain thanks to a specific unloading auger lights. You even have the choice between HID and LED packages.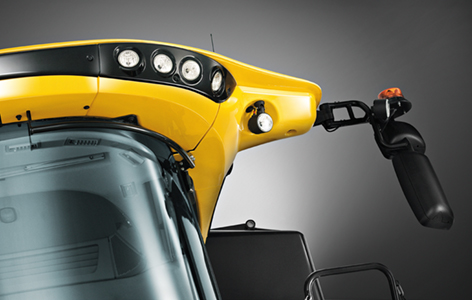 SMARTTRAX™ SYSTEM WITH TERRAGLIDE™ SUSPENSION: A NEW DIMENSION OF COMFORT
The SmartTrax™ rubber tracks with Terraglide™ suspension system are standard on the CR10.90 and optional on all other models. They are available in 24", 28.5" and 34" widths and two pairs of hydraulic suspended rollers work independently to produce a silky smooth ride when harvesting. Want more? How about a longer track length for a larger overall footprint for reduced field compaction and enhanced traction.
TWIN ROTOR™ TECHNOLOGY FROM THOSE WHO INVENTED IT
New Holland invented rotary threshing and separation with the Twin Rotor™ Technology over forty years ago, and has been on an unswerving mission to continually improve and refine it ever since. Its gentle threshing action delivers unsurpassed grain quality, with grain crackage as low as 0.01%. Designed for high capacity harvesting, the inline threshing system is high on output and gentle on Crop.
TWIN PITCH ROTORS FOR VARIABLE CROP CONDITIONS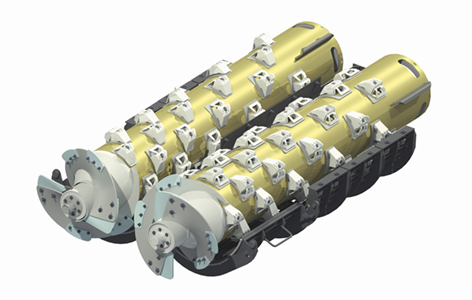 The Twin-Pitch rotors feature 44 elements and are perfect if you work in variable crop conditions. They are particularly suitable for damp conditions, where they can offer up to a 10% increase in capacity. The new, redesigned adjustable rotor vanes reduce the power requirement in high volume straw crops and simultaneously deliver higher quality straw. Two different kits are available which enable operations to select, or even convert between, rice and small grain configurations. S3 rotors are still available as an option.
NEW DYNAMIC FEED ROLL™ TECHNOLOGY
This on-the-go mechanical system delivers no stopping, no hesitation, no interruption stone protection. The Dynamic Feed Roll™ system also speeds up and regulates the crop entering the rotors to improve already sky high capacity. If that wasn't enough, the roll now has serrated blades to be even kinder on the crop for the very highest quality straw.
OPTI-MISE YOUR HARVEST
The standard Opti-Fan™ system compensates for the gravitational effects on crops during harvesting. By selecting the desired fan speed on flat ground the system automatically adjusts it when going up or downhill to minimise losses and improve grain quality. The Opti-Clean™ system optimises the stroke and throwing angles in the cleaning system, which keeps the grain in the air for longer and thus improves cleaning performance by up to 20% for enhanced profitability.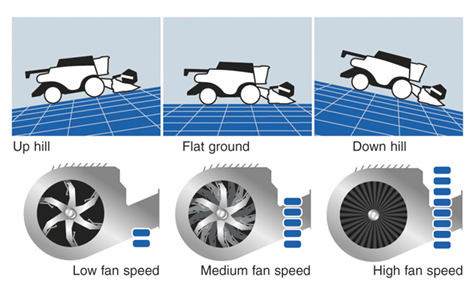 REAL CONDITIONS. UNBELIEVABLE PERFORMANCE
The new, 653hp CR10.90, the world's first and only class 10 combine, smashed the GUINNESS WORLD RECORDS™ title for the Most wheat harvested in eight hours. 797.656 tonnes. 135 tonnes/hour peak capacity. Averaging 99.7 tonnes/hour. Record-breaking numbers in real-world conditions. With its 14,500 litre grain tank and 13.7 metre draper header the 15th August 2014 in Wragby, Lincolnshire UK will go down in GUINNESS WORLD RECORDS history, as the day harvesting entered a new dimension.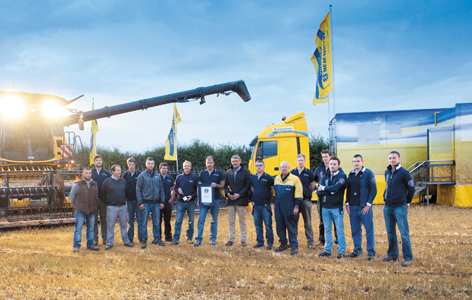 CR10.90 GUINNESS WORLD RECORDS DATA
Farm: HR Bourn and Sons (Wragby Farm)
Location: Grange de Lings, Lincoln, Lincolnshire, UK
Crop: wheat
Variety: Santiago,
Average yield: 9.95t/ha
Average moisture 16.2%
Date: 15th August 2014
Start time: 11:17am
Finish time: 19:16pm (7hrs 59min 36sec)
Equipment:
1 x CR10.90 combine with 45ft (13.7 m) 840 CD draper header.
5 x T7 tractors with 14 tonne trailers
Weather: Changeable conditions, with the ambient temperature ranging from 18-21°C and with light rain showers starting from 17:30pm
Total grain harvested: 797,656kg
Average tonnes per hour: 99.7t/hr
Total area harvested: 80.2ha
Peak capacity: 135t/hr
Litres of diesel per tonne: 1.12l/t