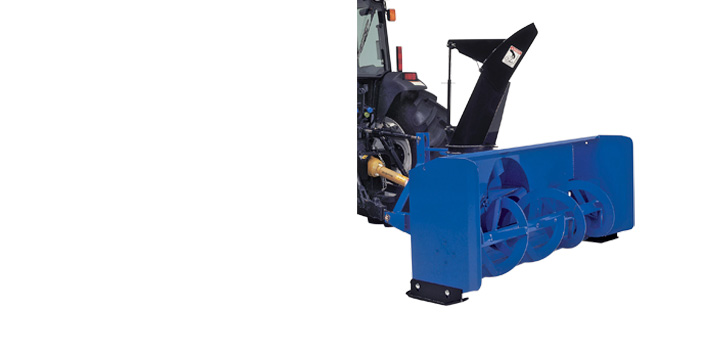 Rear Snow Blowers





CLEAR SNOW IN TIGHT SPACES
Keep your curved driveway clear this winter. The rear snow blower attaches easily to your tractor's three-point hitch to give you a powerful snow removal machine with the flexibility to get into confined spaces.

TWO-STAGE OPERATION
Whatever mother nature throws at you, you can throw aside. A powerful auger breaks up even compacted snow, and a strong impeller blows it up and out the adjustable chute. An open design prevents wet snow from building up around the auger.

EFFICIENT FAN
The extra-large blower fan opening quickly moves large volumes of snow up and out of the discharge chute. Plus it uses four blades for maximum fuel economy.

ADJUSTABLE SKID SHOES
High carbon, heavy-duty shoes allow you to vary settings for efficient operation in changing conditions.

LONG LIFE
Shear bolts provide protection from hard objects and cutting edges are reversible and replaceable for long life and easy maintenance.

OPTIONAL HYDRAULIC CHUTE ROTATION
Easily adjust the direction of blown snow without leaving your seat.
TRACTOR COMPATIBILITY
Models
Tractor Compatibility
Economy Compact
Boomer™ Compact
Boomer™ Compact Utility
64CSR
T1510 (30 HP)
T1520 (35 HP)
1030 (28 HP)
2030 (31 HP)
2035 (35 HP)
74CSR
T1510 (30 HP)
T1520 (35 HP)
T1530 (45 HP)
2030 (31 HP)
2035 (35 HP)
3040 (40 HP)
3045 (45HP)
3050 (50 HP)
Boomer 8N (50 HP)
4055 (55 HP)
4060 (60 HP)
84CSR
T1530 (45 HP)
3040 (40 HP)
3045 (45 HP)
3050 (50 HP)
Boomer 8N (50 HP)
4055 (55 HP)
4060 (60 HP)