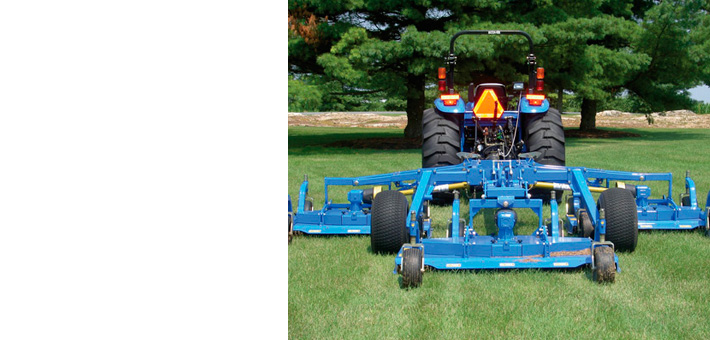 Flex-Wing Rear Finishing Mowers





A SMOOTH CUT ON UNEVEN TERRAIN
Get a clean finish even when working on hilly properties. The 400 Series flex wing finish mower is designed for golf courses, parks or large acreage. Three floating decks flex independently in all directions to follow contours and four wheels per deck ensure stable, uniform operation. Steel blades provide high suction to lift grass and overlap for 100% cutting, delivering a precise finish cut every time you mow.

ADJUSTABLE CUTTING WIDTH AND DECK HEIGHT
Pick the right match for your task with a choice of three cutting widths: 12, 15 or 17 feet. Spacers are provided for quick height adjustments on each deck, and the adjustable hitch lets you choose the right height to fit different types of tractors.

EASY TRANSPORT
Hydraulic fold for easy transport and storage. An automatic tie-rod system keeps the side mowers in vertical position while in transport and a simple release rope lowers the decks.

SMOOTH OPERATION AND EASY MAINTENANCE
Front rollers and chain guards provide smooth operation and grease points and belts are easily accessed for routine maintenance.

MULCHING KIT
Optional mulching kit finely chops mowing debris.
TRACTOR COMPATIBILITY
Models
Tractor Compatibility
Boomer™
Compact
Boomer™
Compact Utility
410GM
3040 (40 HP)
3045 (45 HP)
3050 (50 HP)
Boomer 8N (50 HP)
4055 (55 HP)
4060 (60 HP)
420GM
3040 (40 HP)
3045 (45 HP)
3050 (50 HP)
Boomer 8N (50 HP)
4055 (55 HP)
4060 (60 HP)
430GM
3040 (40 HP)
3045 (45 HP)
3050 (50 HP)
Boomer 8N (50 HP)
4055 (55 HP)
4060 (60 HP)
410GM

Overall Cutting Width: 12' Flex
Minimum Horsepower: 30 hp
Approx. Weight: 2,600 lbs

420GM

Overall Cutting Width: 15' Flex
Minimum Horsepower: 35 hp
Approx. Weight: 2,800 lbs

430GM

Overall Cutting Width: 17' Flex
Minimum Horsepower: 40 hp
Approx. Weight: 3,100 lbs