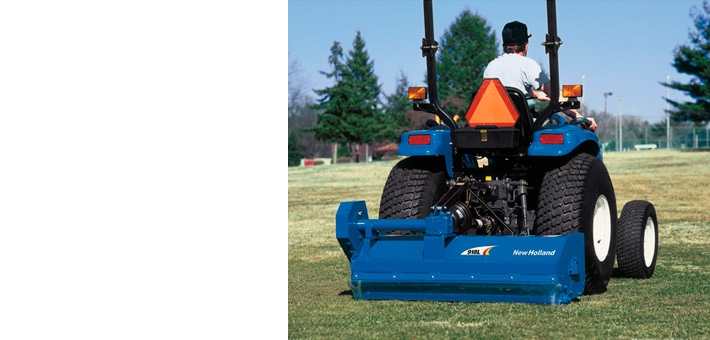 Flail Mowers





WHEN IT'S A JUNGLE OUT THERE
From acres of lawn, to mowing and mulching major overgrowth, use a flail mower to handle all of your cutting jobs. The 2,100-rpm vertical blade rotation delivers a fine, even cut and reduces the chance of objects being thrown from the mower. Blades are reversible for long life, and a single-bolt mount makes replacement easy.

HEAVY DUTY MOWING WITH 918H FLAIL MOWERS
Maximum cutting power for large and overgrown areas:
• Radial flotation hitch allows each side of mower to float independently for uniform cutting on uneven terrain.
• Reversible rotors provide thorough mulching and even rear distribution.
• Center or offset positioning allows mower to get in close to trees, buildings or other obstacles.
• Yielding blades reduce damage and maintain an even cutting pattern if they strike an object.
• Adjustable cutting height from 1 to 5 inches.

MIGHTY MULCHING WITH 918L FLAIL MOWER
The perfect match for heavy mowing with a Category I hitch:
• Single-hinge blades cut evenly, and vertical rotation reduces chance of objects being thrown from mower.
• Fine-cut blades are available for greater lift.
• Reverse rotors thoroughly shred clippings and toss to the back where the extended rear skirt distributes evenly.
• Rear gauge roller allows the mower to follow ground contours.
• Offset design and 3-point hitch mounting provide close cutting around trees, buildings and other obstacles.
TRACTOR COMPATIBILITY
Model
Compatibility Tractors
918H
Under 70 PTO hp, with 540 rpm PTO and Category I or II three-point hitch
918L
Under 30 PTO hp, with 540 rpm PTO and Category I three-point hitch
918L-50in

PTO HP Rating: 30
Rated Speed (rpm): 540
Normal Cutting Width, In.: 50

918L-60in

PTO HP Rating: 30
Rated Speed (rpm): 540
Normal Cutting Width, In.: 60

918H-60in

PTO HP Rating: 70
Rated Speed (rpm): 540
Normal Cutting Width, In.: 60

918H-71in

PTO HP Rating: 70
Rated Speed (rpm): 540
Normal Cutting Width, In.: 71

918H-91in

PTO HP Rating: 70
Rated Speed (rpm): 540
Normal Cutting Width, In.: 88