Step into a new Guardian Front Boom Sprayer from New Holland and you won't look back. The advantages of a front mount boom are many. With a front boom, you get the best of all views and never need to turn in your seat to monitor spraying action. Nozzles are located behind the boom, so you are given a complete, unrestricted view of every nozzle. Along with other features, the new cab offers more lighting and larger windows, improving visibility. With such good visibility, you can run the boom closer to the ground to control drift. Spray is delivered into the crop before the tires go over it, eliminating the potential for dust to neutralize the spray.
The Guardian Front Boom Sprayer also offers industry leading traction and weight distribution and crop clearance. A true 50/50 weight distribution (center tank design) combined with a direct drive system for maximum traction and field performance. These features are combined with the highest horsepower and the largest tank sizes you'll find on the market. Add on the smoothest suspension, a tight 13.5/15-foot turning radius, and the industry-highest six–foot ground clearance, and it's easy to understand how a Guardian Front Boom Sprayer will help you achieve a new level of spraying freedom and productivity. There's only one thing left to do—select the Guardian model with the horsepower, tank and options that are your ideal fit, and never look back.

NEVER LOOK BACK
The front boom design means that you never have to look back. You have a clear view of the crop, your tires and each boom tip so that you can operate longer hours with less effort and less fatigue. The optional 8 halogen/8 HID lighting package, will significantly increase visibility at night for longer working hours when spray timing and application is critical.
NEW CAB DESIGN FOR QUIET, COMFORTABLE CONTROL
Check out the new state of the art industry leading cab design. Comfort is built into the Guardian Front Boom Sprayers to put you at ease, even during long days in the field. The new cab has a high-back, air-ride seat combined with the air-ride cab suspension to give you an ultra-smooth ride. It also includes a tilting, telescoping steering wheel and climate control, as well as a rear-mount engine that keeps the cab quiet. All of these features contribute to making your work days and nights as comfortable as possible.
• New shape and styling
• Two rear windows improve visibility
• New cab mounting to improve support and ride
• Standard – total of 14 working lights
• New, all-glass headlights
• Larger, safer ladder
• Available in Deluxe or Luxury

DELUXE CAB FEATURES
• Cloth, high-back seat
• Improved suspension
• Added seat adjustments
• AC/Heating manually operated
• Vents on floor and ceiling

RADIO
• AM/FM/WX Radio
• CD Player
• AUX input jack
• Antenna is in roof
• 2 speakers

STEERING COLUMN
• Double hinged and telescoping
• Self-cancelling signal switch
• Headlights and high/low beam built into signal switch
• Signal switch can be used for foam marker

LUXURY CAB FEATURES (IN ADDITION TO DELUXE CAB FEATURES)
• Suede leather, high-back seat
• Heated and cooled seat
• Active suspension
• Automatic AC/Heating temperature controlled

RADIO
• XM Receiver
• Bluetooth
• 4 Speakers
• USB port

STEERING COLUMN
• Leather wrapped steering wheel
• Foot pegs
INTELLIVIEW NOW AVAILABLE!
IntelliView is now available as a factory option. Some of the features of the premium New Holland monitor include:
• Auto guidance control
• 10.5", color touch-screen
• Boundary mapping
• Coverage mapping
• Data recording
• Dual-display
• Precision application/prescriptions
• Section overlap control
• Rate control
• Compatible with Raven AutoBoom PowerGlide or UltraGlide systems

The availability of IntelliView means that you can monitor/control guidance, product control, prescription application, and sectional control and boom height control all from one monitor. IntelliView allows you to monitor your productivity, you are able to keep track of your area, work rate, distance, and ground speed – you are even able to keep electronic notes of weather and field conditions with the E-notes Application (optional). Other IntelliView features include:
• Container level tracking (As Applied App required)
• Automatic overlap control (Precision Farming App required)
• Automatic boundary control (Precision Farming App required)
• Manual rate control, including one-touch access to two operator-defined pre-set rates
• Prescription (Rx) rate control (As-applied and Precision Farming Apps required)
• AutoBoom – automatic boom height control, if equipped (AutoBoom App required)
NEW CONSOLE MONITOR
The new built-in color monitor is easy to navigate, optimizing the operator's time and learning curve with a new machine. You are able to program in default settings, and it has the capability to identify fuses on the CANbus system if there is a failure. Additionally, the color monitor can identify product circuits and much more



BOOMS
HIGH STRENGTH MONOBEAM CONSTRUCTION
Guardian Front Boom Sprayers feature rugged monobeam-style booms constructed from high-strength steel. The boom suspension absorbs the shock of uneven field conditions, giving you better stability and flotation. You can be assured that the boom stays level to the ground for accurate spray applications even over tough terrain. These features allow you to work at higher speeds while achieving consistent product application.

Long, parallel link arms ensure smooth lifting and tremendous height range from 22 to 118 inches to clear tall crops. Nozzles are located behind the monobeam for added protection.

The boom rest has been redesigned to make the booms easier to slide in and out. Stops have been added to make it easy to install retaining pins – four positions are available.

A WIDTH TO MATCH YOUR NEEDS
Choose a 90, 100, or 120 foot boom width to cover your acres in a hurry.

NEW STANDARD BOOM FEATURES
Wet Line Drain kit
With a compact design a ball valve located at the end of every boom section with ease of operation for draining and cleaning the spray booms.


DRIVETRAIN


POWERFUL, QUIET ENGINES
Electronically controlled Cummins engines provide high torque rise for added power when you need it. Engines are mounted in the rear for better weight distribution, easy access, and a quieter cab.
SINGLE-PASS COOLING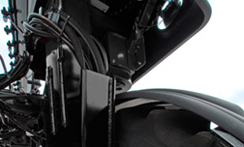 Guardian Sprayers use a stacked, one-pass cooling package. Instead of modules being layered front to back, they are positioned on top of each other, so they all receive the benefit of the same, cool air flow. The high-volume fan pulls air through the entire system in a single pass, allowing for more efficient flow of cooler air through all of the cores for maximum efficiency.
SMOOTH, HYDROSTATIC TRANSMISSION
A proven hydrostatic drive system features twin, heavy-duty pumps. The system delivers smooth power to the wheels and provides you with a wide range of speeds to match varying spraying and field conditions.

DIRECT DRIVE WHEEL MOTORS
The wheel motor drive system puts more power to the wheels with fewer moving parts. It's simple, direct, and efficient power.