Heavy-duty New Holland S1000 field sprayers provide dependable performance, accurate spraying and load stability, even across bumpy, varied field conditions. With 1,000- and 1,600-gallon options, plus your choice of suspended or wheeled booms, you can find the exact pull-type sprayer model to match your needs.

BOOM OPTIONS FOR TOP PERFORMANCE
S1000 heavy-duty sprayer booms are designed to enhance spraying accuracy and provide reliable performance in all types of field conditions. With two boom options and multiple widths, you can easily match the right sprayer to your operation.
RUGGED WHEELED BOOMS
Available only on the S1070 model, wheeled booms include rugged 5-inch x 5-inch frame construction with large-diameter boom wheels and heavy-duty hubs and spindles. Large-bore, automotive-style shock absorbers on the boom wheels provide a smooth ride. PVC booms are standard with the option of dry or stainless steel through our parts department. Boom width options include: 80-, 84-, 90-, 94-, 100-, 104-, 110-, 114-, 120-, 124-, 130- and 134-feet.
INNOVATIVE, HIGH-CLEARANCE SUSPENDED BOOMS
New Holland suspended booms feature high-clearance suspension with parallel link design for improved boom stability and spray accuracy in all field conditions. The hydraulic boom suspension uses accumulators to maintain cylinder position while absorbing the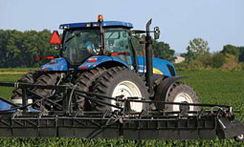 vertical shock encountered by the boom during field operation. The low-maintenance spray boom is available in stainless steel or polypropylene.


CONVENIENT SUSPENDED BOOM CONTROLS AND OPTIONS
The handy in-cab joystick controls boom lift, tilt, transport fold and the optional foam marker. Boom auto height control options include the Norac™ UC4 Plus Ultrasonic sprayer height controller and the Raven™ Autoboom G1 system (touch-down wheel) or G2 system (ultrasonic).

SUSPENDED BOOM FEATURES AND WIDTHS
• The center boom section provides 18 to 70 inches of ground clearance.
• Each outer boom section moves 15 degrees upward and five degrees downward.
• Spray nozzles are positioned to provide protection against foreign objects.
• S1050 suspended boom widths: 80, 90, and 100 feet
• S1070 suspended boom widths: 80, 90, 100, 120, 126 and 134 feet

PROTECTIVE FEATURES
For protection against foreign objects in field, S1000 field sprayers include an outer breakaway boom section (12-foot on wheeled booms and 8-foot on suspended booms). To help ensure spraying accuracy, an optional Richway™ foam marker system is available. Safety lighting is standard with S1000 field sprayers, providing a clear view when working in low-light conditions.

DRIFT-REDUCING WINDSCREENS
Optional windscreens reduce drift by 86 percent compared to open-boom sprayers. A perforated design offers excellent protection from the wind, yet allows enough air flow to reduce turbulence within crop canopy for improved spray coverage. End caps are standard with windscreens on suspended-boom sprayers, while touch-down wheels for boom ends or mid boom are optional.

NARROW WIDTH FOR SAFER TRAVEL
A narrow transport width allows safe road travel and convenient storage. Both suspended-boom and wheeled-boom models may be folded from field- to transport-position from inside the tractor cab.

STABLE, DURABLE AND LONG-LASTING
Heavy 4-inch x 10-inch frame construction allows New Holland field sprayers to provide exceptional load stability and durability over the long haul. Powder coated paint protects against corrosion and preserves a like-new finish.


PLUMBING / CONTROLS


EFFICIENT DESIGN AND EASY-USE CONTROLS
New Holland S1000 sprayers include an efficient tank design and an easy-to-use plumbing control for top spraying performance in the field with fewer problems.
SAFE, CONVENIENT MIXING ACCESS
The optional ground-level, 12-gallon induction tank allows for safe, convenient mixing. The low-profile design provides easy access for adding dry and liquid formulations and water soluble paks. A ball valve at the bottom of the tank enables easy clean out and drainage. A "C-seal" screw lid prevents dust buildup.
EASY MAINTENANCE AND SIMPLE CONTROLS
Flange-style sprayer coupler fittings, used for the manifold and plumbing, allow for easy upkeep. The plumbing's chemical-resistant polypropylene material throughout the sprayer provides added protection. A user-friendly central manifold design simplifies plumbing control and operation for increased productivity and reliability.
EASY-READ SIGHT GAUGE
The standard, large-sight gauge allows at-a-glance monitoring of tank levels. Plumbed to the bottom of the tank sump, the gauge provides improved tank-level accuracy.
NOZZLES AND TIPS TO MATCH AGITATION
Four standard sprayer tank agitation nozzles provide all the agitation necessary to mix current chemicals. Interchangeable nozzle tips match various boom widths and product agitation requirements for extra versatility.


NOZZLE AND NOZZLE-BODY OPTIONS
Sprayers may be ordered with or without nozzles and/or bodies. Factory-fit options include:
TeeJet Nozzle Bodies
• Single Quick TeeJet, Double Swivel-Jet, and Triple Quick TeeJet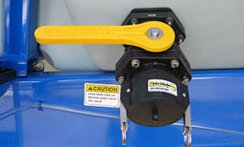 TeeJet Nozzles (Type Series Degree Type):
• TeeJet XR8000 80 Flat Fan
• TeeJet XR11000 110 Flat Fan
• TeeJet AI1100 110 Air Induction
Combo Jet Nozzle Bodies:
• Single Combo-Jet, Double Combo-Jet, Triple Combo-Jet
• Combo-Jet Nozzles: (Type Series Degree Type)
• Combo-Jet ER8000 80 Extended Range
• Combo-Jet DR8000 80 Drift Reduction
• Combo-Jet MR8000 80 Midrange
• Combo-Jet ER11000 110 Extended Range


BOOM SEGMENT CONTROL OPTIONS
Two ball valves are standard on S1000 sprayers to provide on/off control of boom segments. Depending on the auto-rate system, unlimited ball valves may be added to the existing system for more control. Optional 1-inch, 100-mesh, in-line strainers are available for ball valves. These strainers are mounted on the outlet of each ball valve on the back of the boom assembly for more protection against boom nozzle plugging.


ADDITIONAL PUMP OPTIONS
Various pump options may be ordered to accommodate tractor hydraulics and assorted spray applications. Four hydraulic pumps are offered from Hypro™ and Ace™, including the Hypro HM1C-9306, Hypro HM1C-9606, Hypro HM3C and Ace FMC 206. All Hypro pumps feature an enhanced silicone carbide seal that is helpful when dry runs occur. For faster tank filling, an optional 3-inch bulk bottom fill valve is available for use with 3-inch pumps.


MONITORS

FAST, SIMPLE RATE CHANGES
A choice of IntelliView™ II or IntelliView Plus II electronic auto-rate control allows you to make simple application rate changes on-the-go and keeps you informed with readouts showing speed, rate, area covered and volume of spray applied.
INTELLIVIEW™ II MONITOR
The IntelliView™ II monitor features an easy-to-read 7-inch color screen with buttons along the bottom and right side of screen. The ISO 11783 compliant monitor is compatible with other implements that offer similar compliance.

CUSTOMIZABLE AND COMPATIBLE
The IntelliView™ II monitor may be customized to display information that matches your needs. A single display can accommodate multiple functions, such as T8000 tractor corner post data and sprayer data. For added convenience, IntelliView II is compatible with other New Holland machinery, including CR/CX combines, air drills and T8000 and T9000 tractors.

CONVENIENT DISPLAYS
IntelliView™ II includes a soft button display and on-the-go rate changing to easily vary your spray rates. Built-in switch boxes are standard with all monitors. The monitor includes animated graphics for easily understandable, real-time information along with pop-up windows that deliver immediate warnings and other information. Information buttons for each screen allow you to add instructions, such as calibrations and settings.
CONVENIENT USB INFORMATION TRANSFER
A USB memory stick port allows you to easily transfer information into and out of the IntelliView™ II monitor, import application rate charts and input video. The versatile system accommodates various types of video, such as cameras, DVDs and others.

TIME-SAVING FEATURES
For added convenience, an optional control allows agitation to be turned on and off from the monitor to prevent foaming as the tank empties. Unique calibration numbers for each spray tip can be stored in the monitor to make switching between products and rates easier. The new auto-rate nozzle pattern retention feature allows you to set the lowest pressure in the monitor to maintain proper nozzle patterns when operating at low speeds.

CONVENIENT INTELLIVIEW™ PLUS II MONITOR
If you prefer a touch screen display, choose the 10-inch IntelliView™ Plus II color monitor with a 4:3 format. This easy-to-read monitor includes the same versatility as the IntelliView monitor plus it is compatible with the compact flash card, which allows you to transfer information into and out of monitor. The card comes standard with 128 MB and a 1 GB upgrade is recommended.


WHEEL SPACING
ADJUSTABLE WHEEL SPACING INCREASES FLEXIBILITY
New Holland field sprayers include adjustable wheel spacing, providing the flexibility to match narrow tire tracking widths used for row crop applications and to adapt the sprayer to tractor wheel spacing.

INFINITE ADJUSTMENTS WITHIN SET RANGES
Axles are infinitely adjustable between 60 and 120 inches center-to-center on the S1050 sprayer, and 72 to 120 inches center-to-center on the S1070 sprayer. A 90- to 144-inch axle also is available. For added versatility, optional 15,000-, 24,000- and 40,000-pound axles are available.

MORE OPTIONS FOR ENHANCED PERFORMANCE
Several tire options are available, including dual and single cart tires. Axle clearance is 33 to 36 inches, depending on the tire chosen. Optional wheel fenders, which are available on suspended boom sprayers only, prevent the buildup of mud and dirt on sprayer booms and windscreens, and improve the spray pattern directly behind the wheels.


MAINTENANCE


DESIGNED FOR FAST, EASY MAINTENANCE
S1000 sprayer tanks and plumbing feature a six-degree slope from back to front, making tank clean out quick and easy. Winterizing and switching chemicals are also simple tasks.

CONVENIENT TANK CLEANING FEATURES
To assist with tank clean out, the sprayer includes a top-mounted oscillating clean-water rinse nozzle located inside the main tank. A convenient tank access ladder pivots into storage for crop clearance. A separate 120-gallon clean-water rinse tank, which is standard equipment, is located at the front of the main tank, close to the plumbing manifold.




EXTRA CLEANING TOOL
An optional sprayer rinse wand provides convenient general cleaning and rinsing of the sprayer.







EMERGENCY WASH STATION INCLUDED
For extra safety, a 3.2-gallon emergency hand and eye wash station is standard on all S1000 sprayer models.