Step up to a new level of seeding standards with New Holland P1000 Series air carts. Advanced engineering allows you to apply seed and fertilizer efficiently, gently and accurately. You also can apply several products in a single pass, fill and clean out fast, and transport easily for enhanced productivity.
MORE OPTIONS WITH MULTIPLE MODELS
The P1050 and P1060 models feature three integrated polyethylene tanks that can carry up to three products for single-, double- or triple-shoot applications with seed, fertilizer or granular products. P1030 and P1040 models feature two-compartment (60/40 split) polyethylene tanks for single- or double-shoot applications. Tow-behind or tow-between models are available.
ACCURATE SEED AND PRODUCT PLACEMENT
Whether you choose variable-rate technology or the simplicity of mechanical drive, New Holland air carts accurately distribute seed and fertilizer at the rate and combination you decide.

CONVENIENT VARIABLE-RATE TECHNOLOGY
Variable-rate metering uses an independent drive for each meter for precise distribution even at low roller speeds. This allows you to control product rates on-the-go from the cab. Variable rate metering easily adapts to field mapping and can fully integrate seeding and fertilization into your precision agriculture activities.

EASY-TO-USE MECHANICAL DRIVE
With a mechanical drive, you simply select the exact rate you want with a slide adjustment, without changing sprockets or chains.

DESIGNED FOR SAFETY AND EFFICIENCY
The P1000 Series ladder and platform designs are the most convenient in the industry, providing safe and efficient loading, unloading, setting and service. Tank hatches are large to permit easy access for cleaning, and feature easy-operating, tight-sealing latches.

HIGH-CAPACITY AUGERS
High-capacity 10-inch orbital-drive augers on all four models let you fill and empty more quickly than ever. Augers swing out to convey seed or fertilizer into the tanks, or swing underneath to empty. Auger features include:
• Low-restriction flighting tubes.
• Additional top and bottom controls for convenient one-person operation.
• Steel cupped flighting and variable-speed auger control for gentle handling of sensitive seeds.


AIR DELIVERY

EXCLUSIVE NEW HOLLAND AIR DELIVERY
Power-efficient, highly adaptable air cart air distribution uses patented downdraft meter technology, dividing product into equal sections—one for each primary line in the distribution system. Air and product mix in a parallel flow, transitioning smoothly from the meter box to the distribution system.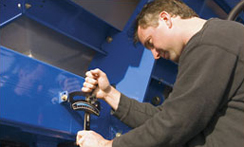 ENHANCED ACCURACY
An agitator bar prevents bridging, providing a constant supply of product to the meter roller. Air valve control at each meter enhances accurate delivery of products that may vary in size and weight. Optional in-cab control is available for enhanced convenience.



SINGLE-SHOOT DELIVERY
Single-shoot delivery means one or more products are blended together in a single distribution system and applied in one zone. The most common single-shoot combinations include applying seed alone, or applying a mixture of seed and fertilizer. You also can apply two types of fertilizer and blend them while banding.




DOUBLE-SHOOT DELIVERY
For double-shoot delivery, products are placed separately in two zones. By adding a second distribution system, two products can be placed in different zones. Applying fertilizer below and to the side of the seed row is a common double-shoot application.




TRIPLE-SHOOT DELIVERY
Triple-shoot delivery adds a third distribution system, which requires an air cart with three tanks. Broadcasting a granular application at the same time as double-shoot placement of seed and fertilizer is one example of this application.


METER ROLLER OPTIONS

METER ROLLERS COVER FULL SPECTRUM OF SEED SIZES
A wide range of meter roller designs provide accurate metering and efficient operation for a variety of seed sizes, from the smallest forage seed to the largest bean

FOUR-METER ROLLER OPTIONS
•
Extra fine
— for very small seeds such as alfalfa, grass, canola and grain sorghum at very low rates.
•
Fine
— for accurately seeding wheat, barley, oats, flax, millet and applying moderate rates of fertilizer.
•
Coarse
— for solid-seeding larger seeds such as peas, beans and applying high rates of fertilizer.
•
Extra coarse
— for very large fragile seeds such as large beans and high fertilizer rates



MONITORS

ADVANCED MONITORING AND CONTROL
You can be confident that all machine functions are operating at peak efficiency with the IntelliView™ II and IntelliView™ Plus II monitoring systems. They conveniently monitor the seeding system's in-field performance, allowing you to change product rates on the go while taking the guesswork out of rate setting with a mechanical drive system.
VERSATILE INTELLIVIEW MONITORS
IntelliView™ monitors track the area worked on each field as well as the overall total area covered with each machine. You can switch from English to metric readouts at any time, and display a variety of functions such as ground speed, fan rpm and application rates in pounds-per-acre for each tank. Other options include remote air control, an alarm indicating low tank levels or sensor failures, and a mounted tillage work switch.

CUSTOMIZABLE INTELLIVIEW II MONITOR
The IntelliView™ II monitor features an easy-to-read 7-inch color screen with a soft-button display that may be customized with display information. The ISO 11783 compliant monitor is compatible with other implements that offer similar compliance as well as other New Holland machinery. Built-in switch boxes are standard with all monitors.

MULTIUSE FUNCTIONS
IntelliView II includes animated graphics for easily understandable, real-time information along with pop-up windows that deliver immediate warnings and other information. Information buttons allow you to add built-in operator instruction settings. Multiple functions may be displayed on a single monitor, covering operations such as tractor performance and straight-line auto-guidance.
CONVENIENT USB INFORMATION TRANSFER
A USB memory stick port allows you to easily transfer information into and out of IntelliView II monitors, import application rate charts for variable-rate seeding and input video.

CONVENIENT INTELLIVIEW PLUS II MONITOR
The 10-inch IntelliView Plus II color monitor with a handy touch-screen display includes the same versatility as the IntelliView II monitor and is compact-flash-card-compatible for transferring information into and out of the monitor. Multiple functions are displayed for IntelliSteer™-ready implements, straight or curved line auto-guidance, combine precision farming, and yield and moisture mapping.


MORE FEATURES

PREMIUM FEATURES AND OPTIONS
New Holland air carts include the features and options needed for outstanding productivity, including Easy Flow headers with unbeatable product flow and gentle seed handling from primary to secondary lines. The design provides easy access for clean-out and service.


FAST, EASY QUICK-CONNECTS
Quick-Connects let you hook up to seeding or banding tools quickly and easily, which is especially helpful if you use your air cart on different tools.




ACCURATE SENSOR OPTIONS
Optional pin-style or optical flow sensors accurately monitor the delivery system to help eliminate blockage. They provide no-contact monitoring of six primary runs and up to an additional 114 secondary runs.





STANDARD AIR VELOCITY SENSORS
Standard air velocity sensors accurately monitor the air flow from each tank, giving you the ability to set the air delivery rate to maximize seed application rate accuracy.





MULTIPLE TIRE OPTIONS
Tire options for P1000 Series air carts, including dual tires, provide the extra flotation needed in soft soils. There are multiple tire options, including rear duals, rear R1 and R3 tire tread, and front R1 and R3 tire tread options.
| | | | | |
| --- | --- | --- | --- | --- |
| P1030 | P1040 | P1050 | P1060 | P1070 |