Move more hay and make fluffier windrows with a New Holland trailing wheel rake. Available in seven working widths—from 17 to 36 feet—these folding V rakes are built to handle the rigors of tough field conditions and high-speed operation. See why New Holland is the leader in haytools.

MATCH THE RAKE TO THE ACREAGE
Two models and seven working widths allow you to find the rake that's right for your operation. The HT152 standard rakes fit low- to mid-volume operations with smaller acreages. The HT154 deluxe rakes are designed for high-volume hay producers who need to cover lots of acres.

COVER MORE ACRES, MAKE LIGHTER WINDROWS
For growers who need to move across more acres and want to make fluffier windrows, the New Holland HT154 deluxe trailing wheel rakes get the job done fast and well. Choose from five models, with 12, 14, 16, 18 or 20 raking wheels, to get the right size for any large operation.


FINE FIT FOR SMALLER FARMS
Get all the speed and control of the bigger New Holland trailing wheel rakes in a smaller implement with the HT152 standard model. It features the same 55-inch-diameter raking wheels as larger models, for fast yet gentle hay fluffing, but with easier maneuverability. The eight-wheel version has a working width of 17 feet, 5 inches, and the 10-wheel model spans 20 feet, 4 inches.


FIELD OPERATION

DURABLE, HIGH-SPEED PERFORMANCE
The HT100 rakes incorporate heavy-duty construction and high-capacity design. Each 55-inch-diameter rake wheel provides a large surface area, using 40 equally spaced tines to gently pick up and move all of the crop and build fluffy, fast-drying windrows.

BUILT FOR TOUGH USE AND LONG LIFE
A reinforced, articulating main frame on HT100 rakes provides the durability to carry the extra load of wide rake settings. Tough 4x4 steel tubing is used for the main frame and each rake wheel frame. Regreasable wheel bearings and heavy-duty, regreasable nylon bushings in each rake wheel arm pivot extend life and provide smooth operation.

EASILY ADJUST WINDROW WIDTH AND MORE
Change the windrow width from 3 feet to 5 feet on the HT152 and from 3 feet to 6 feet on the HT154 with the standard mechanical ratchet. An optional hydraulic kit lets you control it from the tractor seat. Flotation springs on each rake wheel provide the right amount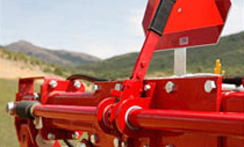 of pressure, and are all connected to one centralized crank screw for fast adjustment.


PLENTY OF OPTIONS
Customize your rake with these options for even greater hay-making efficiency:
• Turn and move the unraked center portion of the swath into the windrow with an optional center wheel kit.
• Extend your raking width by installing an additional wheel to each rake with this optional two-wheel conversion kit.
• Extend only one side of the rake with the optional single-side opening kit.


TRANSPORT
WIDE RAKING, SLIM ROADING
New Holland trailing wheel rakes can take a wide swath in the field but easily slim down for convenient transport on roads and between fields. All models feature 15-inch tires and fold down to an 8-foot, 3-inch traveling width.

HEFTY HYDRAULIC CYLINDERS
Beefy 3¾-inch hydraulic swing cylinders allow you to change between field and transport positions from the comfort of the tractor seat. A swing cylinder lockout valve is standard on all rake models.

ROAD-FRIENDLY FEATURES
Adjustable friction disc brakes on the caster wheels steady the wheels in the field and eliminate high-speed shimmying during road transport. An adjustable clevis hitch allows you to match any tractor drawbar height. A handy jack stand supports the hitch and tongue when the rake is not in use and pivots up for storage during field operation or transport.
| | | | |
| --- | --- | --- | --- |
| HT152 Standard 8-wheel | HT152 Standard 10-wheel | HT154 Deluxe 12-wheel | HT154 Deluxe 14-wheel |
| HT154 Deluxe 16-wheel | HT154 Deluxe 18-wheel | HT154 Deluxe 20-wheel | |