The New Holland Prairie Special is a Speedrower® SP Windrower customized for high-capacity swathing of grains, oilseed or pulse crops. All three Speedrower models are available as a Prairie Special. Prairie Special machines include the features most requested by prairie grain-swathing customers, including:
• Deluxe cab upgrade package
• In-cab control of reel and canvas speeds
• Engine cold start
• Auto Guidance Ready
• Fixed-position crop shields
• Cab and rear axle suspension
• Header quick latch
• Draper ready with chaff wiper kit
• 600/65 R28 R1W drive tires
• Single cast rear wheel support with 16.5L tires


DURASWATH™ DRAPER HEADERS

UNMATCHED SWATHING CAPACITY
When you pair a Speedrower® SP Windrower with a new DuraSwath™ draper head, expect your productivity to climb. Available in 25-, 30-, 36- and 40-foot widths, DuraSwath headers cut big acreage down to size and are ideal for swathing small grains, canola, forage and specialty crops.

UPGRADED HYDRAULIC SYSTEM
The brand-new Speedrower hydraulic system allows DuraSwath draper heads to handle increased power to the knife, draper and reel circuits. A split hydraulic system features two oversized 40-gallon- per-minute (gpm) piston pumps, allowing the knife to run on one circuit and the draper and reel to run on another. The reel drive is a hydraulically powered chain drive, and allows for more accurate reel speed and increased power for tough crops. Oversized pumps allow you to rake advantage of "Power Manage." This feature allows you to throttle back while keeping the same header RPMs to maintain performance, but save on fuel and reduce cab noise. In-cab speed sensors are standard for the knife, reel and belt drives, allowing the operator to view them directly.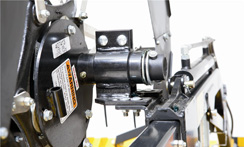 STEEPER REEL ANGLE
The reel arms on each side of the header operate the reel at a steeper attack angle to reach crop in front of the knives for improved crop feeding, especially in lodged and down crops. You can adjust the reel attack angle as needed on the fly while swathing.



MORE RUGGED CUTTERBAR AND KNIFE DRIVE
An upgraded, low-profile cutterbar cuts close to the ground—from 3/4 inches with a maximum guard angle of eight degrees to 1-5/8 inches with a minimum guard angle of two degrees. The rugged New Holland cutterbar system works well in all crops, and especially well in muddy, down and wet crops. Double heat-treated stub guards are available for use in crops that are very tough or green. The Schumacher cutterbar system provides excellent cutting in all crops. A new knife drive motor is both efficient and reliable to handle the torque resulting from tough conditions. The improved sealed knife head bearing requires no greasing. Double heat-treated knife hold-downs have been improved to offer increased durability and easier service adjustment. New, long-life, six-inch poly skid shoes offer a smooth transition and improved on-the-ground cutting.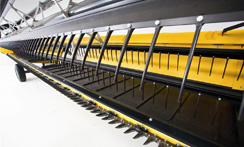 FLATTER TABLE AND BELT ANGLE
The draper angle has been decreased from 20 degrees to 15 degrees for better feeding and improved visibility. There's ample space on the table and no need for a cross auger as required on other draper heads. Deck opening adjusts from 55 to 65 inches on double-swath heads, 56 to 72 inches on center delivery heads, with an 80-inch opening possible when back panel extensions are removed. An integrated draper seal and slide block keeps deck slides free from material build-up.


DRAPER BELTS PULLED, NOT PUSHED
Thick, durable Raptor™ draper belts are center-driven, and are pulled—not pushed—for improved feeding efficiency. Raptor belt canvas now has over eight inches of support, allowing materials to sit front first and make a smooth transition from cutterbar and reel to belt. Belts are double V-guided and fully reversible for twice the life and edge-sealed to keep trash out.


STRONGER FRAME AND REEL
The 6"x10" tube frame and fabricated end struts provides increased frame strength and excellent visibility to the cutterbar so operators can see the crop as it is cut. Reel tubing is manufactured from thicker but lighter HSLA (high-strength, low-alloy) steel for increased strength and reduced weight. Specially designed tine and bat spacing helps reduce wrapping, and allows crops to be easily lifted, divided and fed to the draper belts. A locking collar keeps reel arms and bats connected to the center tube. A timing arm now wraps around the bat and has locking knuckles that provide support and stability to the reel.

OPTIONAL EQUIPMENT
• Fully castering gauge wheels – 3 to 8 inches of shock travel
• Roto-Shear Ready option – equips the header to be ready to install a vertical knife on each end to help cut through down, tangled or green crops
• Cross auger – available for the 30-, 36- and 40-foot models to help in tall, bushy crops
• Crop dividers – choice of pipe divider or floating tip dividers to reduce crop trampling
• Four-wheel transport system for 40-foot models – includes a two-piece hitch that stores on the header and a flip up rear axle for easy changes between field and transport
| | | | | | |
| --- | --- | --- | --- | --- | --- |
| Model | DuraSwath 421HB / DH213 | DuraSwath 425HB / DH253 | DuraSwath 430HB / DH303 | DuraSwath 436HB / DH363 | DuraSwath 440HB / DH403 |
| Versions Available | | | | | |
| Single-knife drive, Single Swath, Single Reel | NA | X | X | NA | NA |
| Single-Knife Drive, Double Swath, Single Reel | NA | X | X | NA | NA |
| Double-Knife Drive, Single Swath, Single Reel | NA | X | X | X | NA |
| Double-Knife Drive, Single Swath, Split Reel | NA | NA | NA | X | X |
| Double-Knife Drive, Double Swath, Single Reel | X | X | X | X | NA |
| Double-Knife Drive, Double Swath, Split Reel | NA | NA | NA | X | NA |


HAYBINE® SICKLEBAR HEADERS

PROVEN PERFORMANCE WITH SICKLE HEADERS
Smooth, clean cutting is what New Holland Haybine® headers deliver. Choose the right header width—12, 14, 16 or 18 foot—to match your capacity needs, and produce top-quality, uniform windrows, round after round.


LAY A VARIETY OF SWATH WIDTHS
Lay down a swath as wide as 96 inches or a windrow as narrow as 38 inches with any HS Series header you choose. There's no need for tools to change from swath to windrow either. For more convenience, add the electric windrow shield adjustment option for in-cab control of windrow formation.




FAST COUNTER-STROKING SICKLES
Get high-capacity cutting performance from the fast, 1810-spm sickle speed and a full 3-inch stroke. Dual counter-stroking sickles with reliable modular wobble drive assure smooth cutting with minimum vibration and maintenance.




CONSISTENT CROP FEEDING
The fully adjustable five-bat reel sweeps crops smoothly to the exclusive floating auger. This 20-inch auger, with 5-inch flightings, floats up to 2 inches to handle heavy crops and delivers the crop evenly to the conditioning rolls.





CONDITIONING YOU CAN COUNT ON
Known for producing thorough conditioning and fast drydown, New Holland chevron-design, intermeshing rubber rolls have a proven torsion-bar roll-pressure system that applies near-constant pressure across the wide 102-inch rolls. They even open automatically to clear crop plugs, without the need to stop. And no tools are necessary for adjusting roll pressure.



DURABINE™ DISC HEADERS

HIGH CAPACITY AND RUGGEDNESS FOR HIGH-VOLUME PRODUCERS
Maximize the performance of your Speedrower® self-propelled windrower with a Durabine™ disc mower-conditioner head. Durabine™ disc heads were designed with high-acreage, high-volume producers and commercial hay operators in mind. That means they're ready for day-in, day-out operation in demanding conditions. Testing shows that crop flows more quickly and smoothly through a Durabine head than other designs.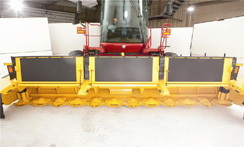 WELCOME TO THE WIDEST DISC CUT IN THE INDUSTRY
With a cutting width of 19'4", the 12-disc Durabine™ 419 cuts wider than any disc head in the business, so you can knock down more acres per hour than ever before. Or choose the 10-disc Durabine™ 416 to slice through 16 feet of crop at a clip. Both heads use pairs of counter-rotating discs and full-length augers for cleaner cutting in all crops, ultra-smooth crop flow and better formation of fast-drying swaths or windrows. You can adjust windrow/swath width easily without tools—from a wide 96-inch swath to a narrow 38-inch windrow. Optional electric windrow shield adjustment allows for on the go changes from the cab.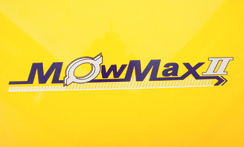 Durabine™ 416
16' 1" / 193.2-inch cut
171.5-inch auger
Durabine™ 419
19' 4" / 232-inch cut
209.1-inch auger

THE BENEFITS OF A TRUE MODULAR DESIGN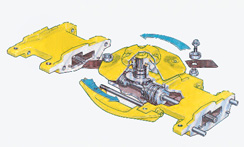 New Holland's MowMax™ II cutterbar sets the standard for the industry. With its true modular design, each disc module is an individually sealed gear case with a dedicated oil reservoir so even when cutting on slopes, there's never a problem with oil starvation to the upper side. In the case of damage, all components — discs, modules, drive components — are common within the different drives, and damage can be isolated to the ShockPRO™ hub.

THE SHOCKPRO™ DIFFERENCE
When the mower hits an obstruction, ShockPRO™ hubs absorb the shock of an impact before damage to the cutterbar driveline can occur. If a ShockPRO hub fails, replace it in just 10 minutes, at minimal cost. See just how easy it is to replace a ShockPRO hub. Here's how:


3-YEAR WARRANTY PROTECTION
The 3-Year MowMax™ Protection includes the one year standard machine warranty plus two more years of coverage of the disc cutterbar starting with the input drive shaft. Coverage pays for parts and labor for defective parts or workmanship within the 36 month time period.

CLEANER CUTTING WITH MOWMAX™ II
Large-diameter cutting discs mow at a shallow attack angle to achieve a close, clean cut with less horsepower. Cut as short as 0.7 inch up to 3.5 inches with standard skid shoes. Reversible swing-away knives double the cutting life. AA broad offering of knives includes:
• Standard 14–degree twist knives
• 7-degree twist knives lift less dust to decrease ash content in feed
• 14-degree twist, serrated knives for longer life in sandy soils or abrasive conditions
• Rock knives for longer life when operating in stony conditions

LONGER, STRONGER AUGER PROMOTES CLEANER CUTTING
Only Durabine heads use an exclusive full-length auger extending from the center of the right outer disc to the center of the left outer disc. The heavy-duty, 20-inch auger features thick, 5/16-inch flighting supported on the back side with an additional bracer. This crop flow auger actually helps the discs do a better mowing job. It moves the heaviest crops with ease, sweeping crop immediately away from the discs and prevents it from pushing down the incoming crop. This leads to the cleanest disc cutting ever, for greater overall capacity. Since it's not the discs's job to distribute crop to the conditioning rolls, there's no need to use co-rotating discs. Durabine heads use pairs of counter-rotating discs—the smoothest way to cut cleanly.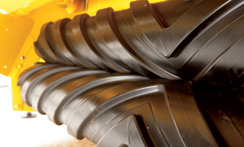 HYDRAULIC HEADER TILT
Speedrower windrowers allow you to adjust cutting height/angle with a tilt switch on the multi-function handle. A tilt angle indicator is on the header and is visible through the front windshield.

MODULAR CONDITIONING SYSTEM
Since you can remove or exchange the conditioning module, you have the flexibility to condition crops only when they need it. Choose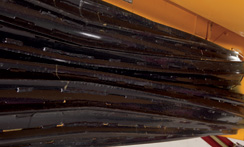 from:
• Rubber chevron-design intermeshing rolls
• Steel chevron-design intermeshing rolls
• High-contact urethane rolls
• Leaning Edge™ flails



SPECIALTY HEADERS

GRASS SEED HARVESTING CONFIGURATION
The Durabine™ 416 Specialty Grass Seed Harvesting Configuration delivers high-capacity harvesting performance in delicate crops that don't require conditioning, including grass seed, mint and flower seed.


UNIQUE AUGER
The unique auger features flighting that tapers as it approaches the center of the head, with no auger paddles or paddle supports and no conditioning module.

FLEXIBLE LEAN BAR AND OTHER FEATURES
A flexible lean bar in front assists with the flow of tall crops into the head without sudden impacts that could shatter seeds. In addition, a second curtain hanging above the cutterbar improves crop flow. In the back, windrow forming rods gently direct crop into a windrow ready for harvesting.


DURAMERGER™ DUAL WINDROW MERGER

DUAL WINDROW MERGER SPEEDS HANDLING
Ideal for high-capacity forage harvesting, a Speedrower® self propelled windrower with a DuraMerger™ 419 mounted crop merger lays two windrows side by side to increase forage crop volume. A convenient in-cab control adjusts the merger belt speed and the deflector position so you can lay the windrows exactly the way the forage harvester operator wants them.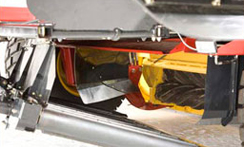 LOW-RIDING MERGER CATCHES ALL THE CROP
When fully lowered, the merger rides only a few inches above the ground to pick up the entire crop. The robust merger design lets it float up and over obstructions, then automatically return to its original position, without having to manually readjust it.


EASY ON-OFF CONTROLS
Switching from one windrow to two is easy and can be done right from the cab simply by lowering or lifting the merger. When it's not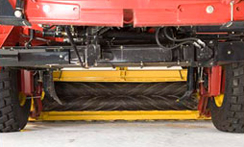 needed, the merger tucks up tight and out of the way under the windrower frame.

GREAT CLEARANCE, RELIABLE BELTS
Industry-leading clearance eliminates the chance of catching a windrow while crossing uneven terrain. The merger belt system was designed for reliability, as well. Belt speed and deflector position are adjusted from the cab, an endless belt takes the worry out of maintenance, and a V-guide on the inside of the belt ensures it will track evenly, no matter how heavy the load.
| | | |
| --- | --- | --- |
| SPEEDROWER® 130 | SPEEDROWER® 200 | SPEEDROWER® 240 |