Monitor and control the bale-making process with the Bale Command™ II Plus (twine and net, twine only, or net only) system (shown) or the Bale Command™ II (twine only) system. Or, go ISOBUS with the IntelliView™ III color touchscreen monitor, or the IntelliView™ IV that's available through parts.
Bale fill sensors on the side of the bale chamber use a new, more durable heat-treated arm. Sensor readouts are displayed as bar graphs on the monitor.
UNMATCHED PICKUP CAPACITY
From the moment the pickup tines touch the windrow, the Roll-Belt™ 560 handles your crop with more speed and efficiency than other designs.

INDUSTRY-LEADING CAPACITY WITH CLEANLINESS
New Holland "kept the best and changed the rest" for the new ActiveSweep™ pickup, available in standard-duty four-bar and heavy-duty five-bar versions. Both are 82 inches wide from tine to tine and feature stronger construction.

THE HEAVY-DUTY, FIVE-BAR ACTIVESWEEP™ PICKUP
• Two-piece, solid-steel tinebars with dual tinebar cams
• Stronger, rubber-mounted, heavy-duty, six-millimeter steel curved tines—32 double tines per bar for 160 tines total
• Four double-plate reel spiders to carry the tinebars
• Larger-diameter 14" in-feed augers
• Improved stronger pickup bands
• Improved bolt-in dividers that run the full-length of the backbone
• Cut out clutch for overload protection on Bale-Slice™ and Specialty Crop models, as well as a built-in declutching system on all balers to shut down belts during bale ejection

THE STANDARD-DUTY, FOUR-BAR ACTIVESWEEP™ PICKUP
• Two-piece tinebars pinned in the center with dual tinebar cams
• 24% stronger five-millimeter steel coil tines that are curved and shot-peened—32 double tines per bar for 128 tines total
• Optional bolt-in, full-length pickup dividers that run the full length of the backbone
• Three plate-type reel spiders carry the tinebars
NEW HIGH-EFFICIENCY FEEDER AUGER
Both ActiveSweep™ pickups use a new, double-flight, overshot feeder/auger design to replace the stuffer used on previous models. The design combines the feeder and augers on a common shaft to move crop efficiently from the pickup to the bale formation area. The feeder tines are arranged in a "W" pattern for efficient crop feeding into bale chamber. Long-wear UHMW plastic feeder strippers direct crop flow off tines and into the bale chamber. The ends of the auger extend beyond the bale chamber opening for complete packing of the bale sides. The feeder/pickup drives are protected with a radial pin clutch.

THE RESULT? A 20% INCREASE IN PICKUP CAPACITY AND CLEANLY SWEPT FIELD STUBBLE
The many ActiveSweep™ design innovations add up to an impressive 20% increase in capacity and perfect, square-shouldered bales.

WINDGUARD AND GAUGE WHEEL CHOICES
ActiveSweep™ pickups are available with a new-design roller windguard or a new, articulated-design tine windguard. You also have a choice of pickup gauge wheels including:
• standard bolt on gauge wheels
• new straight-arm quick-adjust gauge wheels
• new bent-arm, quick-adjust castering gauge wheels that reduce ground scuffing on sharp turns and improve ground-following accuracy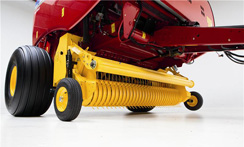 60-INCH, SIX-BAR SUPERSWEEP™ PICKUP
A third pickup option for the Roll-Belt™ 560 is the proven SuperSweep™ pickup with:
• Six tine bars, single cam
• 144 curved steel tines spaced 2.6 inches apart
• Articulated tine windguard
• A single adjustable-height pickup gauge wheel is standard (shown with optional dual adjustable-height pickup gauge wheels)


BALE-SLICE™ SYSTEM

INCREASE BALE DENSITY WITH EXCLUSIVE SLICING SYSTEM
For bales that are more dense, easy to feed and easier for livestock to digest, equip your Roll-Belt™ 560 with New Holland's industry-exclusive Bale-Slice™ system.
14% MORE DENSE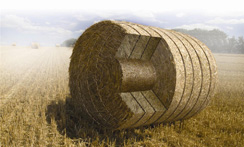 Bales made by the Bale-Slice™ system are up to 14% denser than unsliced and can increase the average daily weight gain in yearling heifers by 23%* plus higher production rates across the board because the hay is cut to the width of a "cows mouth" and is easier to ingest by all cattle. This levels the playing field, allowing lower-ranking animals to eat as fast as the higher-ranking boss cow so all are full when the boss cow goes to lay down and the others follow.

A SOLID CORE IS RETAINED
Since knives enter the bale after the core is made, bales retain a solid core, and you decide how much of the bale is cut to the outside bale face, leave a 2, 4, 6 or 8 inch uncut skin for twine wrapping or cut all the way to the edge if net wrapping.


ROLL-BELT™ DESIGN

FAST CORE STARTS AND DENSE, UNIFORM BALES IN ANY CROP
New Holland's proven combination of rolls and belts gets hay rolling quickly for fast, reliable core starts and helps you pack more hay into every bale.

WHY DOES DENSITY MATTER?

When you pack more crop into every bale, you save on wrapping and retrieval costs, use less fuel, reduce soil compaction and plant damage, improving regrowth and stand longevity. Higher-density bales, greater than 10 lbs. per cubic foot, hold their shape, stand up to the weather better for lower dry matter losses and they're easier to handle, transport and safer to stack. It's New Holland SMART for the way you want to make hay.
ADJUSTABLE HYDRAULIC DENSITY CONTROL
The sealed, adjustable dual hydraulic density control system assures consistent, high-density baling.

NEW Belt choices, including premium endless belts with a new self-cleaning surface and low-profile Alligator™ rivet fasteners with Duralink™ flexible stainless steel pins on premium laced apron belts.
THREE BELT CHOICES
• Standard New Holland MRT (Mini-Rough Top) Clipper laced belts with three plies of poly fabric and top and bottom layer of rubber
• Premium laced belts are manufactured with constant heat and pressure to eliminate belt flaws and improve tensile strength. They feature new low-profile Alligator™ rivet fasteners with Duralink™ stainless flexible pins
• New endless belts (shown) feature a completely spliceless design for maximum consistency and wear resistance. They offer ultimate durability and come with a 3 year/15,000 bale warranty, sure grip, delicate handling and low maintenance.

REDUCED BELT SLIP, INCREASED BELT DRIVING FORCE
The backwrap roll is now located lower and further forward under the apron drive roll. This increases the surface area contact between the belt and roll, improving driving efficiency and reducing belt slip by 20% in all crops.

FRAME PROTECTION
A replaceable wear plate next to the sledge roll frame protects the frame from wear and can be replaced easily if needed.


WRAPPING

SIMPLIFIED WRAPPING AND TYING SYSTEMS
New Holland has improved and simplified its bale wrapping systems for the Roll-Belt™ 560.

THE MOST RELIABLE NET WRAPPING SYSTEM
The net knife and wrapper are now controlled by separate motors, reducing amperage draw on the system. The net knife now moves up to cut the net, pulling the net into the knife for more positive cleaner cutting action. The net roll was positioned a foot closer to the net wrapper, for a simple, shorter, more efficient net travel path makes it the industry's most reliable system, with less chance for misfeeding.

EXCELLENT NET VISIBILITY AND EASY LOADING
The New Holland front-load net wrapping system is highly visible so it's easy to watch your baling operation running smoothly from the tractor seat.
TWINE WRAP SYSTEM WITH SIMPLIFIED ADJUSTMENTS
Dual twine tubes move across the bale from the left side of the baler to the right and back again for a controlled, consistent wrap pattern across the bale face. You can change the twine tube spacing and speed to control twine spacing. Up front you can carry up to eight active balls of twine without using the dividers or 6 while utilizing the dividers, with up to four additional twine balls on spare carriers two balls per side on both sides of the baler.


SPECIALTY CROPS
HANDLES TOUGH CONDITIONS AND HIGH-VOLUME CROPS
The Specialty Crop Roll-Belt 560™ is designed to handle tough conditions and high-volume crops like cornstalks or large windrows of heavy grasses like sudan or even straw. It features the heavy-duty ActiveSweep™ five-bar pickup with HD rubber tines, solid two-piece tine bars and a steel roller windguard. It also features crop guides to reduce crop catching on gauge wheels, fingers on the external expeller roll to remove in-chamber debris and a duckbill trash baffle that cleans net wrap during each wrapping cycle.


CUSTOMIZE YOUR ROLL-BELT™ 560

TIRE CHOICES
Flotation tires take the bumps out of baling in rough fields to improve ride quality while reducing soil compaction. Choose, from right to left, 1. high flotation (21.5L x 16.1, 10PR), 2. low-profile flotation (18L x 16.1SL, 10PR) or 3. implement tires (31 x 13.5-15, 10PR).

BALE EJECTION CHOICES
The optional hydraulically actuated bale ramp (shown) lowers as the tailgate starts to rise, and then raises before the tailgate starts to close. The Roll-Belt™ 560 comes standard with a mechanical spring-action bale ramp or you can option down and build it without a ramp.



CROP GATHERING WHEELS
Pickup-mounted crop gathering wheels extend the reach of the pickup to gather windblown, overwidth or bulky windrows. Durable urethane finger discs follow the ground, move with the pickup, pivot up for protection and can be flipped up when not in use.