The quest to make the perfect round bale stops with the New Holland Roll-Belt™ round balers. Choose from 13 distinct models to get precision and customized handling for any crop and every field condition. New Holland's proven combination of rolls and belts forms perfectly shaped bales, field after field.



ROLL-BELT™ FEATURES

THE MOST MODELS AND HIGHEST CAPACITY
Find the best round baler to match your operation from 12 distinct models in the BR7000 Series. All feature the proven Roll-Belt™ round baling technology that makes dense, uniform bales, year after year. A wide variety of features and capacities are available, with the largest models producing bales up to 2,200 lbs.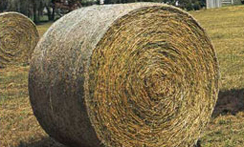 A BALER TO MATCH EVERY OPERATION
With 12 models, matching the job to the right baler is easy. The Silage Special BR7060 produces 4x5 bales and the BR7070 makes 4x6 bales that weigh up to 1,800 lbs. in silage and up to 1,200 lbs. in dry hay. Both models are available with the optional Bale-Slice™ system. The BR7060 and BR7070 CropCutter® models cut hay as short as 2.6.



WIDE, EFFECTIVE PICKUPS GET ALL THE CROP
All three New Holland pickup designs are positioned out front where it's easy to monitor windrow feeding. They feed the crop evenly, from one edge to the other, and are extra wide, too-up to an industry-leading 81.5 inches from tine to tine.


ROLL-BELT™ DESIGN BUILDS TOP-CAPACITY BALES
Heavy-duty rolls in the front of the bale chamber and short, tough belts in the back achieve consistent core formation and tight, uniform bales in dry hay, corn stalks or silage. The Roll-Belt design also delivers the highest round baler capacity in the industry.





DIAL IN THE BALE DENSITY
Build consistent, tight, perfectly shaped bales with the sealed, adjustable hydraulic density control system on BR7000 Series round balers. Just turn the density control knob to change the pressure.


FAST BALE WRAPPING WITH FINGERTIP CONTROL
Get consistent, trouble-free tying with any of the New Holland tying and wrapping systems.
• Auto-Wrap™ provides fully automatic tying without the need for special electronics or hydraulic hoses.
• Bale Command Plus™ provides for monitoring all baler functions from the tractor seat.
• The EdgeWrap™ net-wrapping option covers bales faster than twine and helps them hold their shape and resist weathering.


BEST-IN-CLASS DURABILITY
New features make these reliable machines even more durable. Stronger tines on the pickups last longer and improve lifting. Formed ribbed rolls replace dimple rolls in the bale chamber for better bale formation. And twine tube leaf springs are now heat-treated and kept more securely in place by steel rivets


ROLL-BELT™ DESIGN

FAST CORE STARTS AND THE HIGHEST BALE DENSITY
The unique Roll-Belt™ design is proven to make high-quality bales. Heavy-duty rolls in the front of the bale chamber and short, tough belts in the back produce consistent core formation and tight, uniform bales in all types of crops-dry hay, cornstalks and silage-for the industry's highest bale density.

HEAVY-DUTY ROLLS FORM BETTER BALES
The sequence of rolls makes this design unique, and bales more compact, in five fast steps:
1. Floor roll feeds material from the pickup into the bale chamber.
2. Starter roll then helps turn the crop and start the bale core.
3. Fixed roll transmits power to the remaining upper forming rolls and aids bale rotation.
4. Pivot roll helps form the bale and increases density.
5. Stripper roll, with formed ribs, strips material off the apron belts and packs it into the bale.

TOUGH DESIGN BOOSTS DURABILITY
The floor roll, which features welded rods that feed material from the pickup to the belts, carries most of the bale's weight, which reduces stress on the belts for longer belt life and lower maintenance costs


GENTLER BELTS WITH BETTER GRIP
Six nylon/polyester Mini Rough Top forming belts (eight on the BR7080 and BR7090) grip the crop and carry it upward into the core forming area. Nearly 100 inches shorter than the leading competitor's belts, they flex over uneven bales and provide 91% contact across the bales to reduce crop losses.


PICKUPS

PICKUPS THAT GET ALL OF THE CROP
All three New Holland pickup designs-Super Sweep™, Wide and XtraSweep™-are positioned out front for easy viewing. And all three pick up wider windrows, feed the crop from edge to edge, and better compress material into the bale chamber to form firm, square-shouldered round bales.
MORE TINES ON SUPER SWEEP PICKUP
Available on the BR7080 and BR7090, this pickup has more tines to capture short, fine crop. With six rows of curved tines, pickup speed is slower than the competition, providing gentler crop handling. A strong yet flexible backbone design prevents clogging in crops such as cornstalks. A four-bar version is available on the BR7050 and BR7060.

LOW AND WIDE PICKUP
Pick up extra-wide or windblown windrows easily with the low-profile wide pickup option, available on the BR7060 and BR7070. Its floating windguard improves crop control, while an anti-wrap shield in the right-hand reel bearing prevents damage from crops. Stronger cam follower bearings and a pickup lift crank extend operational life.

XTRASWEEP IS INDUSTRY'S WIDEST
Ideal for handling heavy or windblown windrows, the XtraSweep utilizes an eliptical stuffer for superior feeding in heavy crops. Key features include full-width, pivoting windguards; two flotation gauge wheels to follow field contours; large-diameter pickup augers for improved feeding; and "double-stuffer" feeders that provide positive movement from the pickup reel to the floor roll.

TWO XTRASWEEP SIZES
The 71.1-inch XtraSweep pickup-available on the BR7060 and BR7070-has 112 curved tines to get all the crop off the ground and into the baler. The 81.6-inch model-standard on the BR7060 CropCutter and BR7070 CropCutter, or optional on the BR7090-is the widest in the industry, with 128 tines and double cam tracks for greater durability.


WRAPPING

NO-HASSLE WRAPPING WHIT TWINE OR NET
Reliable New Holland tying and wrapping systems deliver peace of mind and maximum control. Auto-Wrap™ works without special electronics or hydraulic hoses. The Bale Command Plus™ system offers more sophisticated wrapping and monitoring from the tractor seat. And the EdgeWrap™ net-wrapping option wraps bales faster than twine and produces bales that better hold their shape.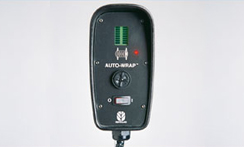 SIMPLE, TROUBLE-FREE TYING
Get consistent twine placement on every bale with the Auto-Wrap system. It works without special electronics or hydraulic hoses. Tensioners mounted on the twine tube ends keep the twine tight in all types of crops and conditions.


ELECTRONIC PRECISION AND MORE TWINE PATTERNS
An electronically controlled wrapping and monitoring system, Bale Command Plus directs the operator down the windrow to fill both sides of the bale evenly. Regardless of speed or windrow size, bales stay dense and well-shaped. An alarm signals when the chamber is full. Bale Command Plus is available on all models except the BR7050.




EDGEWRAP MAKES BALES EASIER TO HANDLE
Wider than the bale chamber, the EdgeWrap provides over-the-edge net wrapping, which helps bales hold their shape and resist weathering, and makes them easier to handle. Available on all BR7000 Series models except the BR7050, the EdgeWrap option comes standard with Bale Command Plus. To see the additional value you'll realize with EdgeWrap, check out the Net Wrap Savings Calculator.


BALE-SLICE™ AND CROPCUTTER®

CUTTING OPTIONS FOR IMPROVED FEEDING
Bales that are easier to pull apart are also easier to feed and more digestible for livestock. The Bale-Slice™ and CropCutter® optional systems are designed to deliver just that-more convenience and better feed efficiency.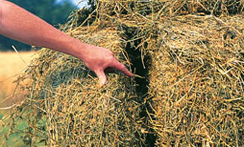 BALE-SLICE ENSURES BALES PULL APART EASILY
Available on the BR7060 Silage Special and BR7090, the Bale-Slice system uses a series of knives to cut the crop as the bales are being formed, making them easier to feed. University studies show bales made with the Bale-Slice system are 14% denser than unsliced bales and can increase average daily gain in yearling heifers by 23%.


CROPCUTTER PACKS MORE INTO EVERY BALE
The rotary feeding and cutting action of the CropCutter system-unique to the BR7060 and BR7070-uses up to 15 knives to cut the crop as it's fed into the baler to maximize bale density. More crop goes into each bale, so there are fewer bales to transport and store.



UTILITY BALER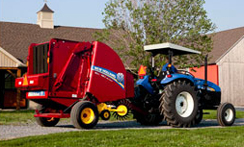 A UTILITY BALER FOR ALL
The New Holland Roll-Belt™ 450 Utility Baler was designed using the latest technology and modeling techniques, then extensively field tested. The result is an all new round baler with a smarter design having fewer moving parts that's easy to own, operate and provides the reliability you demand. It is ideal for the smaller acreage farmer and livestock producer, making 4'x5' round bales up to 1,000 lbs with as little as 40 PTO horsepower.

SUPERSWEEP™ PICK-UP
Picking up what others cannot, the 61 inch wide SuperSweep pick-up has curved, spring steel tines positioned closer together than other pick-ups to gather even the fine and light hay; shot-peened tines combine superb flexibility with a long service life. The pick-up glides smoothly over terrain changes suspended on a large spring to gather all the crop even in rolling fields; pneumatic gauge wheels are available as an option.
• Optional: Pick-up mounted crop gathering wheels follow the terrain and guide bulky or windblown windrows to the pick-up for clean fields and easier baling
• Optional: Hydraulic pick-up lift is ideal with making frequent turns for more productive baling in small or oddly shaped fields.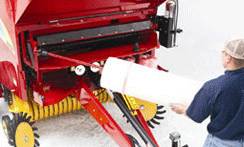 STANDARD WINDGUARD
The windguard guides even large windrows into the bale chamber, helping to feed crop edge-to-edge for easier baling. The quick-release design allows for fast removal in the event of a blockage to keep you more productive

WRAP OPTIONS
AUTO-WRAP™ II TWINE ONLY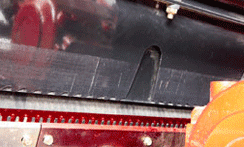 Auto-Wrap II offers simple, easy to use controls and features a selectable wrap count, audible alerts and both manual and automatic modes. Optional dealer installed upgrade to Auto-Wrap II twine only balers provides for fast twine and net wrapping without the Bale Command II monitor.
BALE COMMAND™ II DELUXE TWINE OR DELUXE NET TWINE
Bale Command II offers easy-to-use controls and more advanced features than Auto-Wrap II equipped balers. Electronic bale fill indicators, programmable wrap count, audible alerts, and both manual and automatic modes are just a few. Net and twine equipped Bale Command II balers permit the operator to switch seamlessly between net and twine application.
EXCLUSIVE EDGEWRAP™ NET WRAPPING
The over-size duckbill permits "over-the-edge" wrapping even when using 51 in. standard net. Applied directly to the surface, the net is moved a shorter distance to the bale for consistent and reliable wrapping. The front-loading design is easy to reload and allows the operator to see the net as it is dispensed. Net wrap is also available with the EZ-Notch feature which does not require tools to start a new roll of net for faster loading.

OPTIONAL FEATURES
• Hydraulic Pick-up Lift - hydraulically raises and lowers the pick-up (requires second tractor remote)
• Spring Loaded Bale Ramp
• Crop Gathering Wheels - extends the reach of the SuperSweep pick-up
• Mechanical Bale Counter - counts number of bales produced
• Pneumatic Pick-up Gauge Wheel - improves contour following of the pick-up, ideal for rolling terrain
• Fire Extinguisher - mounted on the side of the baler for easy access
• Tail Gate Mounted Net Storage Box
• In-feed disc - lessen the bales friction inside the chamber and reduce the power requirement
• Tires - 31 x 13.5 - 15


MORE FEATURES

SIMPLE MAINTENANCE AND EFFICIENT DESIGN
Plenty of features on the BR7000 Series Roll-Belt™ round balers make easy work of regular maintenance and simplify daily operation.


TAILGATE LATCH INDICATOR
Know that the tailgate is closed and latched with just a glace at the large indicator on the right front corner of the baler. Models equipped with Bale Command Plus™ feature a tailgate latch indicator on the operator control panel.





EASY ACCESS TO TWINE STORAGE
Side-load twine storage boxes hold six balls of twice on the BR7060, BR7070, BR7080 and BR7090 Auto-Wrap™ balers. An additional five or six balls can be stored in an optional front box.







HEAVY-DUTY HITCH JACK
Tractor hookup is easy with the heavy-duty hitch jack that goes up to 22 inches. After hitching, the jack easily relocates up and out of the way.






CONVENIENT LUBE BANK
Located on each side of the baler, lube banks are easy to access. Plastic grease lines connect them to most Roll-Belt™ bearings requiring lubrication. Spring-length gauges allow fast tension checks.




HIGHWAY LIGHTS IMPROVE VISIBILITY
Designed to meet the latest federal standards, this light package ensures the machine is more visible during over-the-road transport.
| | | | |
| --- | --- | --- | --- |
| BR7050 | BR7050 High-Moisture | BR7060 Standard | BR7060 |
| BR7060 Silage Special | BR7060 CropCutter® | BR7070 All-Purpose | BR7070 CropCutter® |
| BR7080 Silage Special | BR7090 Silage Special | BR7090 Specialty Crop | Roll-Belt-450-Utility |