Look to New Holland for corn heads that deliver superior gathering and feeding performance, so you can bump up the speed of your harvest and finish faster. Durable construction and simple maintenance add to the long, dependable service you can expect from New Holland corn heads.
RUGGED, FAST AND SMOOTH
The rugged 98D corn head makes your harvest go faster, getting under downed corn, picking it up better than the competition with less trash intake to help increase combine capacity.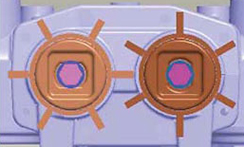 RESILIENT POLYETHYLENE CONSTRUCTION
The 98D divider snouts are constructed of durable polyethylene. The slippery surface of its shields, fenders and points leads to fast, smooth feeding, so you can increase your ground speed. And because the polyethylene construction absorbs impact, ears don't bounce out of the corn head for less loss. The color-impregnated polyethylene never rusts, and does not show dings and damage for less repair and higher resale value.
TWO STALK ROLL STYLES
Choose the stalk roll style to match your needs:
• The fluted stalk roll does not cut or break the crop in dry or diseased crop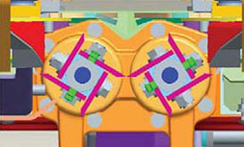 conditions, which means you take less trash into the combine.
• The pinching stalk roll features pinching knives that crimp and cut into stalks for faster residue break down—ideal for minimum-till and no-till systems.

DEPENDABLE OPERATION IN ALL CROP CONDITIONS
98D corn head stalk rolls feature four knives that aggressively pull down stalks of any size. Operators can adjust deck plates electronically from the cab to adapt to changing stalk and cob size. Optional rotary dividers further enhance the already smooth crop intake in lodged or downed corn.

RUGGED DESIGN AND CONSTRUCTION
Heavy-duty, cast-iron, row-unit gearboxes drive and support the stalk rolls, which are heat-treated and straight-fluted for more aggressive feeding than tapered stalk rolls. Their unique two-piece cantilevered design reduces replacement costs and improves servicing. A Hi-Flow front stalk roll spiral and longer stalk rolls with front bearing support (pinching style) enable faster harvesting speeds. Adjustable stalk roll supports also are included.

EASY SERVICE AND TRANSPORT
Shields flip up and out of the way without tools for fast, complete servicing and easy transport. Convenient props hold the shields in place so you can work quickly and confidently. It's also easy to adjust the height of the points without tools. An oil bath row unit chain drive provides long, dependable operation.


99C CHOPPING CORN HEAD


BEST-IN-CLASS STALK CHOPPING

For fine chopping and superb spreading of mulched material, the 99C chopping corn head features two chopping knives for each row unit—perfect for minimum or no-till operations.

CONSISTENT CHOPPING
High-quality, self-tensioning gathering chains smoothly feed the stalks between the deck plates and toward the stalk rolls. Pinching-style stalk rolls use four knives each to efficiently pull down stalks for sustained high capacity. Cornstalks are chopped into consistent small segments whether the combine is traveling at fast or slow ground speeds. Operators can adjust deck plates electronically from the cab to adapt to changing stalk and cob size. Optional rotary dividers further enhance the already smooth crop intake in lodged or downed corn.



CONSERVE POWER, REDUCE WEAR
Since each row unit has an independent gearbox, you can quickly disengage the chopper for those units to save power and reduce wear when stalk chopping is not required.

RESILIENT POLYETHYLENE DIVIDERS
Durable, low-profile polyethylene dividers promote smooth crop flow and reduce ear bounce at faster field speeds. The color-impregnated polyethylene construction reduces dent damage, eliminates rust and lowers overall header weight.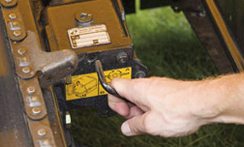 EXCELLENT FLOTATION
Auto-float sensors mounted on the outer head rows are available to maintain an even cutting height across the entire field. Your New Holland combine's Terrain Tracer™ system allows the head to float vertically and laterally as needed to follow ground contours.

FLIP-UP HEADS FOR TROUBLE FREE TRANSPORT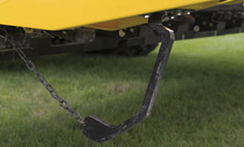 You can order the 99C head in either traditional rigid or a flip-up version for easier transport from field to field. You engage the folding mechanism automatically with the touch of a button from the comfort of the cab.