HUSQVARNA 338 XP® T

338 XP® T represent a new upgraded edition with increased compression ratio for more rapid acceleration and increased torque.The new Husqvarna 338 XP® T is the result of the successful further development of the previous model. Higher performance and longer operating times ensure maximum efficiency, and the soft inlays on the handle, a new choke/stop control and chain tensioning from the side are other improvements aimed at easier operation and better working environment. XP®
Chain tensioning from the side
Allows quick and convenient chain tensioning.
Soft inlays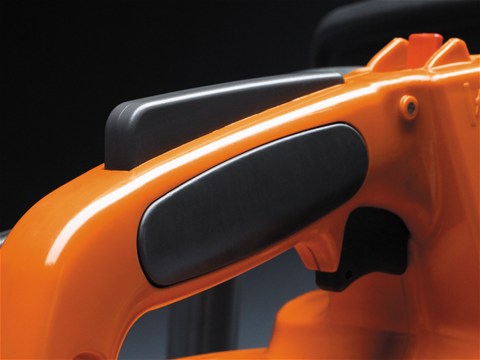 Provide a firm, comfortable grip that reduces fatigue and makes the saw easier to handle.
Hand guard
The design of the hand guard allows easier view of the tip of the saw bar, and improved control when operating.
Rope attachment
A sturdy point for fastening a rope, making it easy to hoist the saw up into a tree.
Teardrop design
Low weight, teardrop-shaped saw body and flat underside make the saw easy to manoeuvre.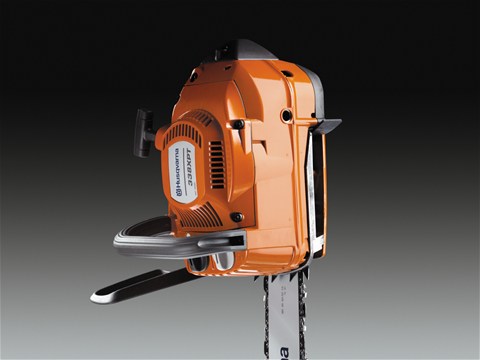 Air Injection
Centrifugal air cleaning system for reduced wear and longer operating time between filter cleanings.
LowVib®
Effective anti-vibration dampeners absorb vibration, sparing the user's arms and hands.
Three-piece crankshaft
Forged three-piece crankshaft for maximum durability for the toughest applications.
More features:
Adjustable oil pump
Combined choke/stop control
Magnesium crankcase
Quick release air filter cover
Smart start
Fuel pump
Intertia chain brake
Specifications for 338 XP® T
Engine specification
Cylinder displacement
2.4 cu.inch / 39 cm³
Power output
2.3 hp / 1.7 kW
Maximum power speed
9600 rpm
Fuel tank volume
11.5 fl oz / 0.34 lit
Fuel consumption
540 g/kWh
Spark plug
Champion RCJ7Y, NGK BPMR7A
Electrode gap
0.02 " / 0.5 mm
Torque, max.
1.8 Nm/7200 rpm
Lubricants
Oil tank volume
0.3 US pint / 0.14 lit
Vibration & noise data
Equivalent vibration level (ahv, eq) front / rear handle
3/3.5 m/s²
Sound pressure level at operators ear
102 dB(A)
Sound power level, guaranteed (LWA)
111 dB(A)
Cutting equipment
Chain pitch
3/8"
Recommended bar length, min-max
12"-16" / 30-40 cm
Chain speed at max power
60.04 fts / 18.3 m/s
Chain speed at 133% of maximum engine power speed
79.72 fts / 24.3 m/s
Overall dimensions
Weight (excl. cutting equipment)
7.7 lbs / 3.5 kg