All year round, trouble free lawn mowing.
Articulated steering, unsurpassed manoeuvrability and front-mounted cutting deck, the combination of control, comfort and efficiency the Rider makes mowing and other tasks around your property/land all year round fun. And it's hard to find places where these machines aren't able to reach.
HUSQVARNA R 220T
Powerful and versatile Rider with twin-cylinder engine and optional Combi or side ejection cutting decks. Suitable for home- and landowners who require high efficiency, ease of use, superior maneuverability and a truly enjoyable ride. The articulated steering system and front-mounted cutting deck means intuitive operation, excellent mowing accessibility and great overview of your working area. Pedal-operated hydrostatic transmission, easy-access controls and automatic blade engagement, makes mowing a pleasure. The cutting deck is easily tilted up into service position for easy cleaning after mowing. This Rider can do so much more than cutting your lawn. Thanks to attachments such as snow blade, broom, trailer and spreader, it can maintain your garden all year round.
Briggs & Stratton, 12.6 kW @ 3000 rpm, Hydrostatic, 41-48 inch / 103-122 cm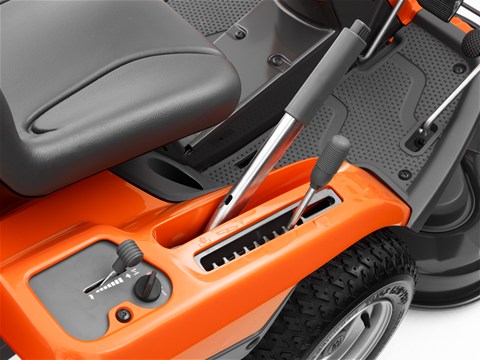 Articulated steering
The unique articulated steering system allows the rear pair of wheels to swing in underneath the machine. The result is superior manoeuvrability with a minimum turning radius at full lock.
Front-mounted cutting deck
Front-mounted cutting deck for excellent accessibility into corners and under bushes, park benches etc.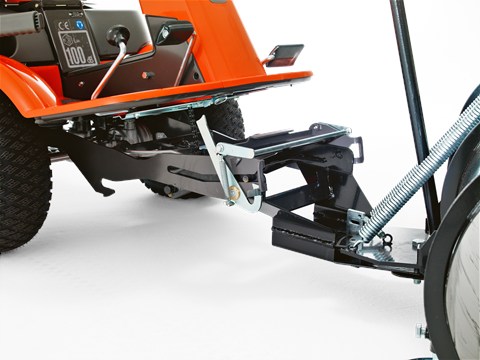 Service position
Service position on the cutting deck facilitates cleaning and service.
External fuel cap
Thanks to the external fuel cap, you don't have to open the engine hood when taking on more fuel. The extra wide fuel tank opening makes refueling even easier.
Pedal-operated hydrostatic transmission
Speed and direction are managed by pedals, which lets you keep both hands on the steering wheel, for optimum driving control.
Easy-access cutting height lever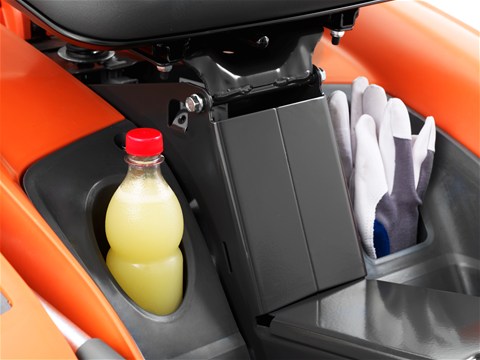 The cutting height lever is easy to reach from the driver's seat, making it possible to do cutting height changes while mowing.
Quick coupling
Unique quick coupling allows attachments to be changed quickly and efficiently without tools.
Transparent fuel tank
Large, transparent fuel tank makes it easy to check the fuel level.
Storage compartment
The open left-hand storage is easy to access while mowing.