All year round, trouble free lawn mowing.
Articulated steering, unsurpassed manoeuvrability and front-mounted cutting deck, the combination of control, comfort and efficiency the Rider makes mowing and other tasks around your property/land all year round fun. And it's hard to find places where these machines aren't able to reach.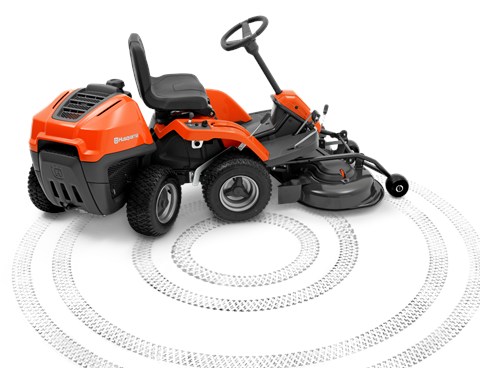 Compact and user-friendly Rider with 42" side discharge cutting deck. Suitable for homeowners who want an efficient and multipurpose ride-on mower that can handle mowing around obstacles like trees, bushes and flower beds. The articulated steering system and front-mounted cutting deck means intuitive operation, excellent mowing accessibility and great overview of your working area. Pedal-operated hydrostatic transmission, easy-access controls and automatic blade engagement, makes mowing a pleasure. The rear-wheel drive ensures extra traction when mowing on slopes. This Rider can do so much more than cutting your lawn. Thanks to attachments such as snow blade, trailer, moss rake and spreader, it can maintain your yard all year round.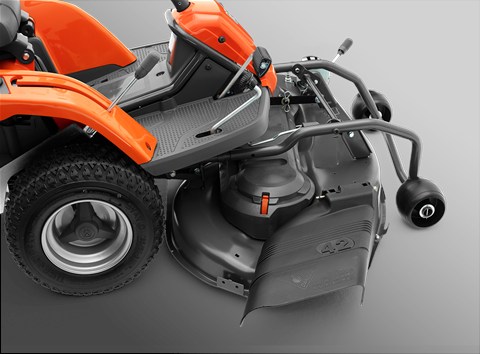 Briggs & Stratton, 11 kW @ 3300 rpm, Hydrostatic, 42 inch / 107 cm


Articulated steering
The articulated steering gives excellent manoeuvrability and facilitates driving around obstacles such as trees and bushes.


Front-mounted cutting deck
Front-mounted cutting deck for excellent accessibility into corners and under bushes, park benches etc.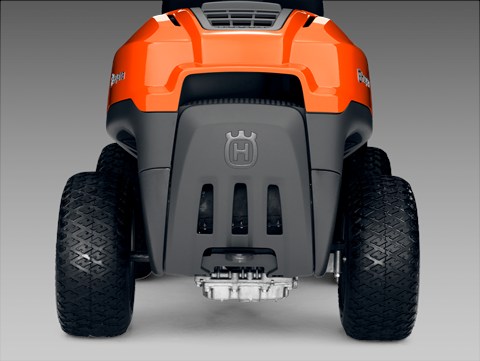 Rear-wheel drive
The efficient rear-wheel drive system ensures excellent traction when mowing on slopes.


Comfortable driver's position
With a Rider you get safety, stability and traction on both flat grounds and hillsides. The Rider's low gravity centre contributes to extra good traction as well as a comfortable "sit-in" feeling for the user.


Compact design
The compact design makes it easy to manoeuvre the mower in smaller spaces. Also requires less space for storage.


External fuel cap
Thanks to the external fuel cap, you don't have to open the engine hood when taking on more fuel. The extra wide fuel tank opening makes refueling even easier.
Engine behind driver
Thanks to the rear-mounted engine, you get better overview of the mowing and less noise and emissions in the driver's area.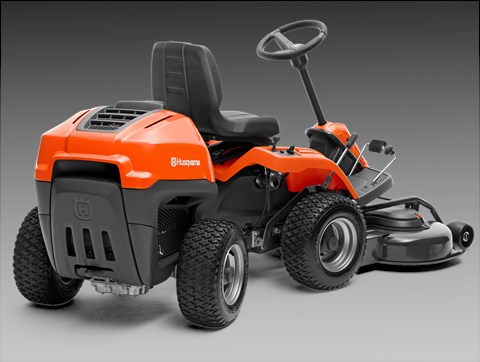 Transparent fuel tank
Large, transparent fuel tank makes it easy to check the fuel level.


Engine

| | |
| --- | --- |
| Engine manufacturer | Briggs & Stratton |
| Engine name | Endurance Series |
| Net power at preset rpm | 11 kW @ 3300 rpm |
| Cylinder displacement | 30.5 cu.inch / 500 cm³ |
| Cylinders | 1 |
| Engine cooling | Air |
| Generator | 3 A |
| Battery | 12 V 21 Ah |
| Fuel Type | Gasoline |
| Fuel tank volume | 1.9 gal. / 7 lit |
| Engine lubrication type | Full pressure |
| Oil filter | |

Drive system

| | |
| --- | --- |
| Transmission type | Hydrostatic |
| Transmission manufacturer, rear | Tuff Torq |
| Transmission manufacturer | Tuff Torq |
| Drive method | Pedal-operated |
| Speed forward, min-max | 0-6.84 mph / 0-11 km/h |
| Speed reverse, min-max | 0-4.97 mph / 0-8 km/h |

Cutting deck

| | |
| --- | --- |
| Uncut circle | 31.5 inch / 80 cm |
| Cutting width | 42 inch / 107 cm |
| Cutting deck type | Stamped |
| Cutting deck material | Steel |
| Cutting methods | Side discharge |
| Cutting height steps | 5 pcs |
| Blade engagement | Automatic |
| Blades | 2 |
| Powder-coated cutting deck | |

Other

| | |
| --- | --- |
| Seat material | Vinyl |
| Seat suspension | |
| Seat back height | Medium |
| Foldable seat | |

Dimensions

| | |
| --- | --- |
| Tyre dimensions, front | 165/60-8 |
| Tyre dimensions, rear | 165/60-8 |
| Wheelbase | 332.7 " / 845 cm |
| Ground clearance | 4.1 inch / 105 mm |
| Base machine, length | 900.8 inch / 2288 cm |
| Base machine, width | 497.2 inch / 1263 cm |
| Base machine, height | 426.8 inch / 1084 cm |
| Weight | 496.03 lbs / 225 kg |

Vibrations

| | |
| --- | --- |
| Vibration level steering wheel | 1.6 m/s² |
| Vibration level seat | 0.7 m/s² |
Import from Tdb

| | |
| --- | --- |
| Power | 19.5 hp |